The nation's first all-digital library began with, of all things, a physical book.
When Judge Nelson Wolff read Walter Isaacson's Steve Jobs, what struck him most was the idea of time compression. "So much can happen in such a short, intense time," he says, in reflection. While the iPhone took over the world in five short years, it took Judge Wolff just 10 months to conceive and construct BiblioTech: a completely paperless library and community technology center. I'm honored to have been able to contribute to the construction of the library through the 80/20 Foundation, but I'm even more proud to announce that this world-changing idea came to being not in Silicon Valley, New York or Tokyo but right here in Rackspace's own backyard: San Antonio, Texas.
The media has really perked up its collective ears on this story. The story has been at the top of Time Magazine's webpage as one of the most read and shared stories. The Huffington Post ran a great write up on the event and ABC News picked it up, too. It's a landmark achievement not just for San Antonio, but for cloud computing as well. Let me explain.
BiblioTech's goals are twofold. First, to give access to technology to a community that might not otherwise get hands-on experience. Second, to promote literacy; and not just traditional literacy, but what Judge Wolff and his staff call "technical literacy."
"We have a digital divide," the Judge explains. "By 2020, if you're not connected to the Internet, you'll be considered illiterate." This is sobering news for the south San Antonio neighborhood where the library resides. According to the area's school district, 100 percent of students are on subsidized lunches with 80 percent living in economically disadvantaged conditions. These households earn little money for food and clothing, never mind laptops and tablet computers. More to the point: a report commissioned by the county revealed that fewer than half of the households in the surrounding area have an Internet connection.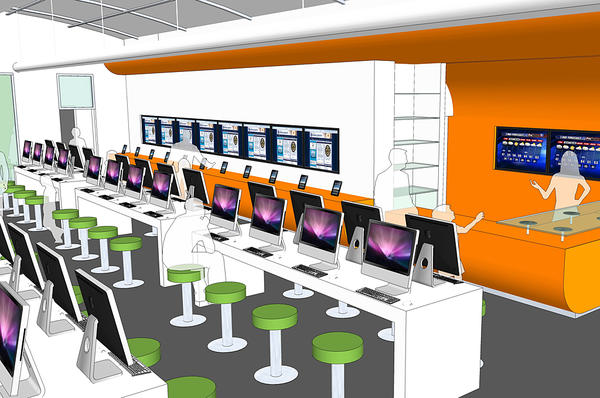 BiblioTech addresses this shortfall head-on. Patrons of the institution get free access to a library of 20,000 e-books and 400 audio books today, with plans to grow rapidly over the coming years. Members of the library can check out e-readers preloaded with books they've selected from a kiosk with a decidedly iTunes-like interface. Alternatively, any member of the library with a computer, tablet or smartphone can check out books directly to their device of choice at any time. No late fees and no trips to the library needed. There isn't even a single physical book in the library. Think of it as Books as a Service.
The library does more than just distribute literature, however. "Today, access to the Internet is just as valuable as any book," says Wolff. BiblioTech wants to create a space where young and old alike can look for jobs, apply to college or learn new skills like programming. Wolff's vision is to create a fire hose of information and opportunity to the communities that the library serves. "What we're offering is a house of learning – not just a house of books," Wolff says.
Perhaps what is most encouraging about the project is that it is entirely repeatable. While BiblioTech is the first, it will by no means be the only all-digital library in the country. The ability to duplicate BiblioTech in other cities comes in large part to the technological model that forms the backend of the library.
BiblioTech's catalogue and check out system is all based in the cloud. I'm personally inspired by seeing the work that went into creating a seamless check-out and reading experience for BiblioTech. This is exactly the kind of radically transformative application that cloud computing can provide to the world. Simply put: It's a Cloud Library, built on a scalable, high-performance SaaS foundation. As Marc Andreesson might say: software has eaten the library.
When a normal library grows in patrons, it has to add more staff. When it needs more books, it has to add more shelf space and take on more overhead. Neither of these will ever be a concern for libraries that adopt Wolff's BiblioTech model. More books just means more bytes. More patrons means more bandwidth. These are easily managed problems in a cloud-powered world.
Like the rest of BiblioTech, the technology behind the library places its focus on delivering better results for less. All told, BiblioTech was one third the cost, takes up less than a quarter of the space and took half the time that a traditional library would to build. That's what we call, in my industry, speed to market.
That efficiency was not traded for in quality. The facility boasts 48 gleaming iMacs, hundreds of e-readers and dozens of tablet computers in a sleek, contemporary space. It's brightly lit, full of gleaming white plastic and polished aluminum. It looks, and not coincidentally, like an Apple Store. "I was struck by Apple's retail stores," says Wolff. "I wanted to do that with a library. I wanted people to walk in and go 'Wow! This place is cool!'"
Which is, perhaps, what struck me the most. There are Microsoft surface computers in the kids' room full of puzzles, games and coloring apps. There is an Xbox hooked up to a huge flat screen TV. The conference rooms are surrounded in glass and whiteboards. The staff are young, happy and smartly dressed in matching casual outfits. There's a coffee shop.
Is it possible that Judge Wolff just made libraries … cool?
If the line stretching out of the building and into the street to get a library card is any indication, I'd say so.