This post was written and contributed by Nathalie Benoit, VP, Marketing for OneLogin, a Rackspace Cloud Tools Partner.

Securely access The Rackspace Cloud Control Panel without entering a username and password – one click is all you need. As a pre-integrated application with OneLogin – a single sign-on and identity management provider – The Rackspace Cloud is quickly and safely accessible through the OneLogin dashboard.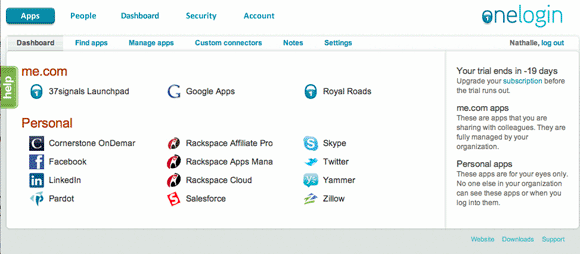 When you click on the Rackspace icon on the dashboard, OneLogin logs you into your account – forgotten passwords are a thing of the past. And phishing attacks are prevented because you can't be tricked into entering your credentials on a fake landing page and inadvertently exposing your enterprise data to criminals.
Here's how it works: OneLogin gives you straight-through access to your favorite on-demand software by taking on the task of communicating your credentials to the target application. Once you're authenticated in OneLogin, you're free to access your applications without having to remember countless username/password logins and several destination URLs. In short, OneLogin acts as a secure portal through which you access the cloud.
What's in it for your IT department?
With OneLogin, ease-of-use and security are not opposing forces. In addition to making you more productive by giving you one-click access to your on-demand software, OneLogin empowers IT to monitor, control, and manage enterprise cloud applications in order to:
Strengthen Security: prevent unauthorized access.
Simplify Administration: centralize application management and monitoring.
Improve Transparency: gain real-time insight into application usage.
Sign up for a 30-day trial and see for yourself how OneLogin gives you quick, secure access to The Rackspace Cloud and all your other on-demand applications.