Today is Bike to Work Day in San Francisco. Dozens of Rackers in Rackspace's San Francisco office participated. Here, I look at how cycling to work has become a key component of Racker SF culture (and some of the struggles that come with riding a bike to work in a major city).
San Francisco gets a big-city rep, but it's actually pretty small. You really notice exactly how small when you're in a car looking for a parking space. San Francisco, as a city, has exactly four parking spaces available for cars. And it costs $317 per hour to park in them; more on days when the Giants are playing.
The truth is that owning a car in the city is a headache. As a result, in our San Francisco office, we've concentrated on making it easier for people to bike in and we've won awards for it.
Everyone's got their own idea of what a biker is. Some envision Lance Armstrong wannabes and call up a mental picture of a guy on a fancy bike zipped into a yellow jersey. Others think of the Portlandia Bicycle rights guy, tatted to the nines with a tuft on his chin and giant holes in his earlobes maneuvering a fixie in and out of traffic.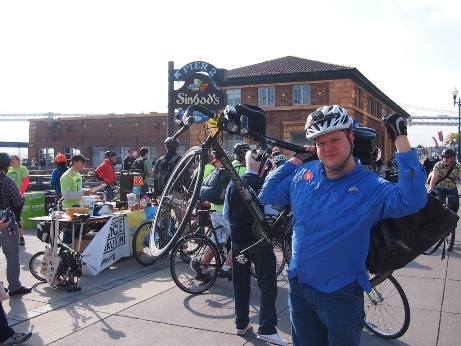 But for lots of people, biking to work is about people riding in their jeans on normal-looking bikes. It's just how they get to where they're going. But when you don't have a Tour De France support staff tailing you, there are ways this can be difficult.
The first problem you face as a biker is the ever-present fear of having your ride ripped off. You leave a nice bike on the street, even chained up, and there's a good chance it'll get stolen or stripped of parts while you're inside the office coding. That's no fun, especially if you've invested in a nice bike that has a lot of memories caked into the sweat on the top tube.
Then there's the question of sweat. Thomas Edison said "genius is one percent inspiration, 99 percent perspiration"- which is fine if you work from home. But nobody likes a stinky nerd at the office. Try pair programming after going a few miles up and down San Francisco's notorious hills. Not fun.
And then there's the maintenance issue. Bikes don't exactly take care of themselves. There are two ways of dealing with the requisite break-fix scenarios. You can DIY at home and spend a small fortune on tools or you can roll into a bike shop and spend a small fortune to have an expert do it for you. Either way, it's your money in somebody else's pockets.
Biking to work is great, but without safe storage, an opportunity to get clean and some good tools it isn't practical for most riders.
Now San Francisco has an ordinance that requires office buildings to contain a shower, a certain number of clothes lockers and bike parking spaces. That's great! But sometimes it isn't enough. When the architects worked on the office plan for SFO (Rackspace's San Francisco office) we told them that they'd have to dedicate more space to biking than was required. They came back with a revised plan. We still wanted more.
It seemed crazy at the time; we wanted 10 times what was required by law. But we've been growing gangbusters here. Not every new Racker brings a bike, but plenty do and the bike space is starting to get crowded. All of this space is indoors with a convenient sidewalk-level door and a place for you to change your shoes, store your helmet and take a quick shower.
I could stop right there and feel like I'd reached biker Nirvana. But we've also got a really incredible bike workshop, with all of the tools necessary to maintain, repair and upgrade bikes. I'm not talking about a wrench and a screwdriver either. These are tools that people don't necessarily have at home such as the precision tools to true a wobbly wheel or a bike repair stand that makes it much more comfortable to work on a bike. I am quite proud of how we've made our studio both functional and inviting. It welcomes people to learn and become more self-sufficient in their cycling. We've even got loaner bikes, helmets and locks for guests from out-of-town or quick errands if you walked or took transit.
But wait, there's more.
Truth be told, it would be quite a commute for me to bike to work from my home 40 miles south of the city. Fortunately, Rackspace offers commuters benefits to defray the cost of using public transportation. I'm able to bike from my front door to the CalTrain and then bike from the station to the office and Rackspace picks up a big part of the cost.  It's no surprise that around half the SFO employees bike to work on any given day and all but a few use some alternative to cars for transportation.
There are a lot of reasons to not drive to work. For some people, it's just a healthy way to get a nice bit of exercise on the way in to work. There's plenty of good science that shows that exercise makes a person smarter and happier and healthier. For some people, it's about the community of bike riders. For some people, it's about saving money. For others, it's about not burning fossil fuels. Or merely the satisfaction of not needing to find a parking space and being able to bike past congestion. Rackspace supports all these things and at SFO, we support them fanatically.