EDITOR'S NOTE: Rackspace Deployment Services is now live and in the control panel under Servers & Deployments.
Launching your application on the Rackspace Cloud is now even easier with Rackspace Deployment Services, a new automated deployment service that is now available to testers in Early Access. If you are interested in participating in this Early Access please complete the quick survey below.
Do you want to run WordPress, Drupal, PHP, Rails, etc …. in the Rackspace Cloud without the manual setup and installation? Would you like your deployments to be automated, using Rackspace's best practice setup, and execute faster than possible with a manual installation?  That will soon be a reality.
Let us help you simplify the setup of your cloud and app deployments with an awesome new feature called Rackspace Deployment Services, which automates common application and resource deployments.
In a few simple clicks, you will be able to select the application, platform or component that you would like to install, select the size of the cloud installation and deploy it automatically.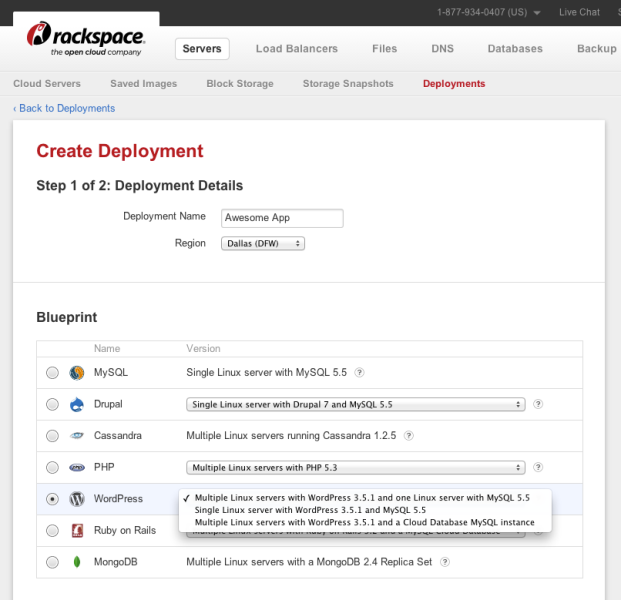 Automating application deployments means:
No more time-intensive manual server builds.
No more reading about how to perform installations of your favorite app.
No more research into what caching, sync or other software is needed.
Rackspace Deployment Services captures Rackspace's many years of experience building cloud environments, and packages it into a set of best-practice application blueprints for you to use. Right now, the blueprints include WordPress, Drupal and PHP; and we're working on Ruby on Rails, MySQL, MongoDB and Cassandra.
You select the application. We do the setup. Your cloud-based solution is live. It's that simple.
To learn more about Rackspace Deployment Services, check it out in the control panel under Servers & Deployments.