This is a guest post written by David Anderson, the main developer of UpdraftPlus, a WordPress backup plugin. He lives in the UK and loves Jesus, WordPress, technology, sports, good books and his family.
How much time and effort have you put into your WordPress website? What would it cost you to replace it all from the beginning? How many hackers are knocking on your website's doors and windows right now to see what gives way?
Setting up a backup solution should be the first thing you do after installing WordPress. As the author of UpdraftPlus – the highest-rated backup plugin the wordpress.org, and one of only two automated backup plugins to have scored eight points at rankwp.com – I'm really pleased to see Rackspace Cloud Files as a fully supported cloud backup option.
While developing for Cloud Files, I appreciated its easy-to-use web interface. I had no problems with it "under the hood" either. UpdraftPlus Backup/Restore supports backups into Cloud Files fully:
It supports all setups that WordPress supports (including Windows servers and PHP 5.2,  which is still used by 62 percent  of WordPress sites, but is not supported by many backup plugins; see http://wordpress.org/about/stats/).
It supports all sizes of website. No matter how big the created backup zip archives are, it can upload them into Cloud Files in chunks, and resume from wherever it left off – automatically, without you needing to watch it.
It's not just a backup plugin – UpdraftPlus also includes easy downloading of your backups, and easy restoring from the WordPress dashboard.
Comprehensive help and commercial support is available; see http://updraftplus.com.
It also offers all of the standard features you'd look for in a backup plugin, including:
Easy setup without jargon – just a single page with a few simple options: When do you want your backups to run, and where do you want to send them to?
Automatic scheduling – choose to run your backups multiple times a day, once a day, weekly, fortnightly or monthly. Choose how many backups to keep historically (i.e. automatic deletion of unwanted backups).
Email notifications – receive a message when your backup completes.
UpdraftPlus Backup/Restore is tried-and-tested; it has an estimated 20,000 active users, according to rankwp.com. And, best of all, it's free. For more advanced users, a premium version with professional support and more features is also available.
Setup on Cloud Files is very easy, you just need to copy-and-paste the "API key" from your Cloud Files console into the settings, choose the name of a container and you're done. Press the "test" button, and it'll confirm that everything is well.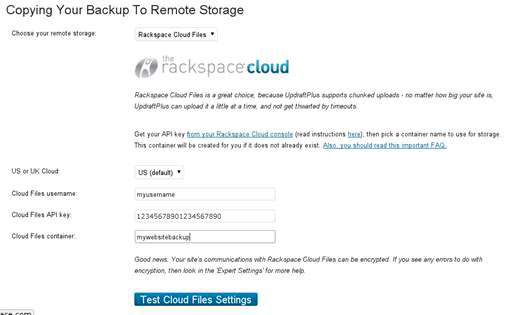 To get started, use the usual WordPress plugin installer from your dashboard; or for a full guide with screenshots, go to http://updraftplus.com/download/. Don't put it off, because the hackers won't.