This is a guest post written and contributed by Ravi Chandran, Founder & CTO at XtremeData, Inc., a Rackspace Cloud Tools Partner. XtremeData provides a scalable, full-featured SQL data warehouse solution for Big Data analytics.
Big Data analytics is one of the highest priorities for CTOs today. But CTOs don't have the luxury of maintaining big, complex infrastructure to deliver Big Data analytics with speed and agility. And the costs to do so are often prohibitive. Doing more for less is the imperative. Customers don't want the headache and costs of building alterative capabilities. They want cost-efficient Big Data analytics that just work, with no waiting.
In partnership with Rackspace, XtremeData offers a full-featured data warehouse solution in the cloud. XtremeData's dbX is a high performance linearly scalable SQL database engine that provides ACID-compliance and full SQL support, including ANSI Window functions, Indexes, Partitions, Cursors, User Defined Functions and more. dbX can be deployed on the Rackspace Cloud with a few clicks, at full-scale, from one to hundreds of nodes, supporting 1 TB to hundreds of TBs. XtremeData on Rackspace empowers CTOs to keep their data at Rackspace and leverage Rackspace Cloud and managed infrastructure services for Big Data analytics. With XtremeData, customers of all sizes – small, medium and large – now have a Big Data analytics solution at Rackspace.
XtremeData's dbX is unique. Other SQL database-in-the-cloud offerings are limited in features and functionality or lack scalability. Specialized databases, for example column-stores such as AWS RedShift, do not support key functionality like Partitions, Indexes, Cursors and Sequences; require careful engineering for performance; and cannot handle write-heavy workloads with frequent data ingests and updates. XtremeData does not have any such limitations.
Where does XtremeData fit? The Big Data platform is converging towards a heterogeneous architecture, where Hadoop, general-purpose MPP databases and specialized solutions all co-exist. Hadoop is used for ingesting and storing massive amounts of data and for batch-mode processing involving data transformation and extraction. MPP databases are used for near real-time and frequent ingests, data-intensive processing (integration, enrichment, aggregations) and interactive analytics against Big Data sets. Columnar and in-memory solutions are typically single-node instances for mostly static reporting against relatively small data. XtremeData fits in the MPP database category and integrates well with Hadoop and specialized solutions. A full-featured scalable SQL database system like dbX also complements NoSQL solutions such as MongoDB, CouchDB, etc., when complex analysis is necessary between multiple large tables with complex inter-relationships.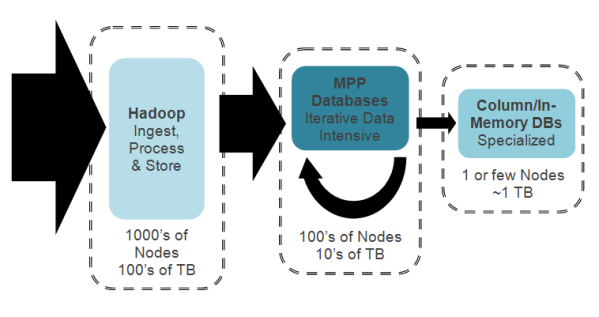 We are very excited to be a Rackspace Cloud partner, and welcome anyone facing Big Data analytic challenges to visit us at www.xtremedata.com/rackspace.