Last month Bitcurrent issued the findings of a comprehensive study on cloud computing performance. The Rackspace Cloud was among the five top providers targeted for rigorous testing and we're proud of how we came out.  The other cloud platforms were Salesforce's Force.com, Google's App Engine, Terremark's vCloud, and Amazon's Elastic Compute Cloud.
Given the growth of the cloud market and the fact that the term "cloud" has come to mean many things—from hosted web applications to fully-fledged platforms—Bitcurrent wanted to assess the current state of cloud performance.  They wanted to see if the promise of pay-as-you-go economics and elastic capacity could live up to the demands of large-scale enterprises.
As part of their testing regimen, Bitcurrent teamed up with Webmetrics, a web monitoring firm. They tested four aspects of performance across the five cloud networks. The test agents are described below:
A simple web request, to measure the responsiveness of the system for a trivially small, static object.
A request for a large (2 Megabyte) object, to test the network throughput.
A request that triggered a million mathematically-intensive calculations, to test computing power.
A request that searched 500,000 rows of a database for a string, to test the back-end I/O of the system.
The tests were executed, using the agents, from multiple locations around the world. The results of the tests can be illustrated in the diagram below.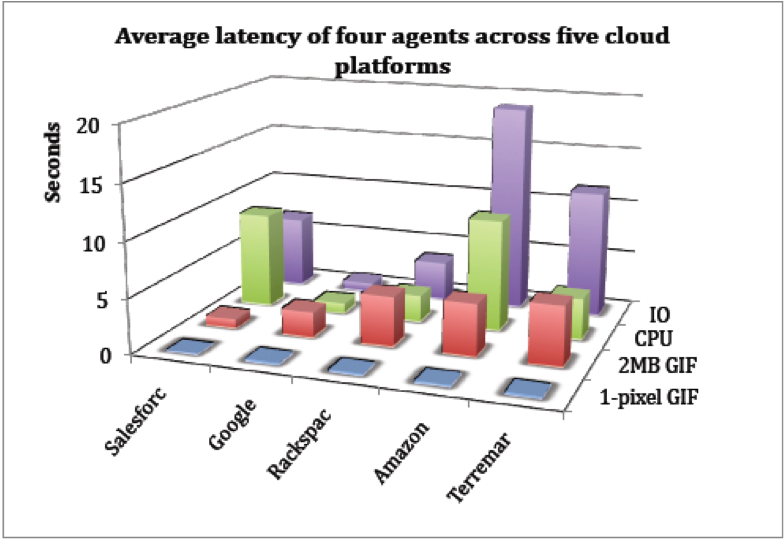 The Rackspace Cloud performed well across all categories—responsiveness (1-pixel GIF), network throughput (2MB GIF), computing power (CPU), and I/O (database search).  While no provider was a clear winner in every category, Rackspace Cloud was in the top tier for each test. We even managed to surprise the testers on the CPU front:
"The PaaS providers did well, largely because of their shared storage model that is optimized for large data sets across many machines.  We were surprised by how well Rackspace's cloud handled the simultaneous traffic despite being a PaaS-based solution."
The summary of the Bitcurrent report as well as the complete report, with all the testing details, are available for download.