When it comes to community support, Rackspace is generous in giving back. As part of our second quarter Rack Gives Back program, San Francisco Rackers voted to make charitable donations to multiple organizations that focus primarily on Science, Technology, Engineering and Mathematics (STEM).Winners included the Electronic Frontier Foundation, Open Oakland and the Ada Initiative. But Rackers made the largest charitable gift to Black Girls Code (BGC).
Black Girls Code is devoted to providing young girls of color workshops for in-demand skills in technology and computer programming so they can become masters of their technological worlds. BGC does so by reaching out to the community through workshops and after school programs. More info can be found on its website.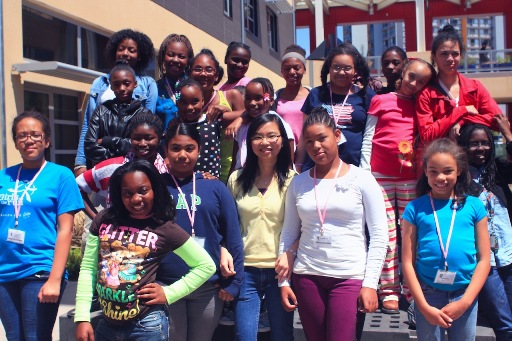 Giving money is a great way to support this program, but our team wanted to do more. We wanted to get involved, and the opportunity came when I heard that Black Girls Code was hosting a summer camp and looking for speakers.
The theme for the summer camp was "Mobile Entrepreneurship," which fits well with what I do for Rackspace. I have been an Android application developer for the past several years and have a passion about building great products for mobile platforms. I decided to give a talk on User Interface Design.
During the one-hour session, I gave a high level talk about the constraints and characteristics of mobile devices and how we can design apps to take advantage of it.
First, I focused on choosing the right components to make a mobile application more user-friendly. A great user experience is about putting the right pieces together at the right place and right time. I showed the girls various examples, such as modern design concepts, to help them visualize different approaches and impacts to user experience.
After a Q&A session, I prepared a simple chat interface. The user interface (UI) was very plain. The girls broke into small groups and were given a print out of the chat UI. They were asked to interact with each other and brainstorm on what can be done to improve the interface. After 10 minutes of discussion, each group presented its ideas with the rest of the class. They were really smart. I showed them the UI of the Skype app afterwards and the ideas that the girls provided were all there, in addition to several other creative ideas that hadn't crossed my mind.
More Than Just Coding
The camp focuses not just on coding; the girls also learn entrepreneurship, ideation, UI design and marketing. Along with having experts come in and talk, they also visited the Facebook campus, a nice field trip for the last day of the camp. I was amazed by how complete the camp was and how much the girls were able to achieve in such a short time. I wish there had been a similar program for me when I was that age.
The experience of giving and participating makes me very proud of the Rack Gives Back mission. When I came back, I shared my experience with my team, and they were very interested in participating themselves. One colleague said he would encourage his daughter join such a program when she's old enough.
I am so happy that I took the opportunity to interact with the girls personally and contribute to the program, especially as a woman in the technical field. It feels great contribute and raise awareness for communities. If you want to experience it too, act now and contact Bekki Bolthouse or Rohini Pandhi for future volunteering opportunities.