Something Rackspace knows firsthand is that building and operating a successful cloud business is hard. Going from being in the dedicated server business to being a recognized leader in cloud has been a journey for us, and we've learned a lot over the past few years to get to the position we are in today.
This journey is something service providers and telcos struggle with as well – they know the power of the cloud, their customers are asking for it, but they're not sure where to start. So many questions… Should they pick a hardware vendor and buy a truck full of gear? A software vendor and buy some licenses? Some kind of appliance? An integrator to custom-build them something or to plug those things together? How will they package, productize, price, sell and support these offerings? How will they build an engineering and operations team to maintain the high levels of SLAs their customers will demand?
Lots of questions, no great answers. Until now!
Today, Rackspace is telling the world that we plan to build and run a linked global cloud network for large service providers and telcos. This cloud network will run the Rackspace public cloud – the largest OpenStack-based public cloud in the world – at global scale, creating a networked cloud of clouds through which service providers are linked together behind the scenes.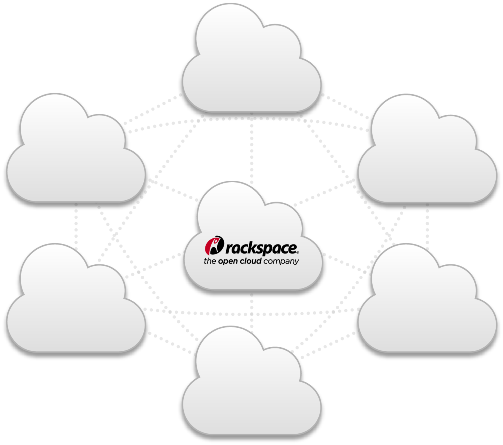 Rackspace will deploy our public cloud into a service provider data center and remotely operate that cloud, and the service provider will provide the physical data center operations as well as market, sell and support the co-branded cloud directly to its end-customers. The end result is more OpenStack in the hands of more users, which has been the Rackspace vision since we founded the project in 2010.
This extension of our public cloud portfolio will give both service providers and their customers access to a network of interconnected global data centers – customers will be able to run their workloads in any data center that is part of the network, while maintaining their business relationship with the local provider of their choice. It will also expand Rackspace's global data center footprint to include these service provider partners, ultimately letting us and our partners increase resource utilization and cloud growth. Users will be able to run their workloads where they want, when they want.
As operators of the world's largest OpenStack-based public cloud, we've gotten very good at running clouds at scale. We'll share that expertise with our service provider and telco partners, giving them everything they need to build an OpenStack cloud offering: we'll design it, deploy it and operate it. They'll have access to our expertise in technology, operations, go-to-market and support. It will be powered by OpenStack, and we'll provide the patching, tuning and monitoring backed by carrier-grade SLAs. We'll give our partners sales and support training, collateral and more to help them successfully enter the cloud market faster while helping to reduce their business risk.
Now, service providers and telcos can broaden their portfolios to offer their customers cloud services on a global level. They can complement their existing services with a proven public cloud offering that is powered by open source software and taps into the vast expertise of Rackspace.
This is our vision for the cloud – truly interoperable open clouds at global scale. We've been asked for it by service providers on nearly every continent. And now we have a team working hard to deliver it.
This is a major step in helping OpenStack gain wider adoption – and we're building it to better serve the world and our customers.
Questions or comments about this blog post? Let me know below or on Twitter: @scottsanchez