We recently published our Business Email 101 Guide to help you think through your business email management strategy. Each week, we follow up with a post that digs deeper into each chapter. So far, we've reviewed how to choose between on-premises or outsourced email. If you've decided to go the hosted email route, the decisions haven't stopped yet. Not all hosted email is the same.  After making the decision to host, your next step is to determine what kind of hosting you need. There's consumer-level and business-grade email. Deciding between the two often depends on the maturity of your business.
A small shop or lean startup may be okay with the limitations and risks of free email, like Gmail or Yahoo, for swapping messages between a few employees and a handful of customers. As a business matures, more features and professionalism drive the need for better email, like a robust webmail client. However, the email of choice for most mature SMBs and enterprises is Microsoft Exchange. Ideally, you want a plan that can support you through growth. Having to migrate email from in-house through multiple providers to get the right fit wastes time and money along with the risks inherent with any migration.
Comparing the nuts and bolts of Rackspace's business-grade email service against Google's email offerings helps highlight the differences, like support and flexibility, that come with a business-focused email provider versus a provider whose experience lies in commercial email service. (Click the chart to enlarge.)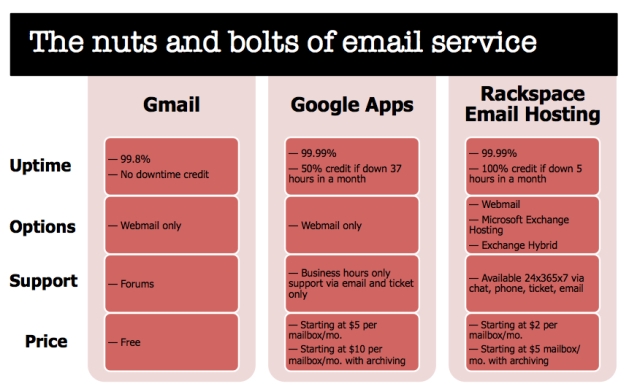 Download the Business Email 101 Guide and read the complete Step Two for more guidance around choosing how to host your email.