At its core, DevOps is about understanding the end-to-end process of delivering business value and ensuring development and operations are working together to deliver solid business outcomes and optimise this cycle, reducing time to market. It's a tearing down of silos that will encourage innovation and collaboration to open up new opportunities for businesses looking to find an edge in an aggressive Internet centric market. And according to our recent survey, organizations around the globe are finding real value and real business benefits by adopting DevOps practices.
We polled 700 technology decision makers in the US, UK and Australia about DevOps adoption and found that among those familiar with DevOps 86 percent have either already implemented DevOps (51 percent) or is planning to adopt DevOps practices (35 percent).
The survey confirmed that the business value of implementing DevOps is real. Fifty-two percent of DevOps users said they see an increase in customer conversion and satisfaction, while 43 percent improved customer engagement and 38 percent experienced a sales increase. This validates that DevOps is designed to position technical teams and applications on a trajectory to serve the business and enable growth. When placed against the observation at 43 percent of respondents indicate that their Ops team are leading the charge on DevOps, it creates a unique opportunity for downtrodden IT organisations to have a meaningful impact on enabling growth of the business.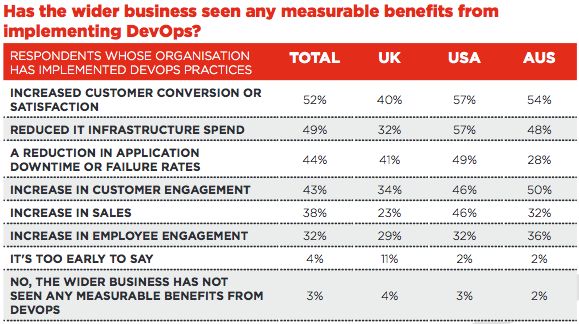 Technologically, among those who have adopted DevOps practices, more than half experience faster delivery of new features and 46 percent reported a more stable operating environment. At the same time, innovation increased while IT costs decreased for 43 percent and 32 percent of DevOps users, respectively.
And the results show that many companies value the help of a service provider to get up and running with DevOps.
Of the organizations that currently use DevOps, 73 percent said they're working with third parties for DevOps automation, which 59 percent said is more cost effective than doing DevOps. At the same time, 50 percent said leveraging a third party for DevOps automation helps them improve and 48 percent said it improves productivity.
One of the main challenges businesses need to address, our study found, is that of the cultural change DevOps introduces. About a third of companies that are already DevOps shops said internal resistance from both the ops and dev teams created challenges, while almost a quarter struggled to get the business at large to buy into the changes.
Challenges aside, our survey results show that DevOps is truly empowering organizations and making real, positive impacts on the business, while also creating cost efficiencies and saving time. That's why we're offering you a range of advice and support services that will help you at every step of your journey.
View the full survey results and learn more about Rackspace DevOps services here: http://www.rackspace.co.uk/devops.