An Aberdeen Group survey in 2012 found that the industry average cost of downtime is $181,770 per hour [1]. It's an issue we'll talk about in depth at EMC World.
The immediate loss of revenue from a data center outage or unplanned downtime is tangible and an easier amount to quantify.  We have built a Downtime Cost Calculator that helps you perform quick, back-of-the-napkin calculations to determine the hourly cost of downtime based on:
Annual Revenue
Retail Promotion
Employee Productivity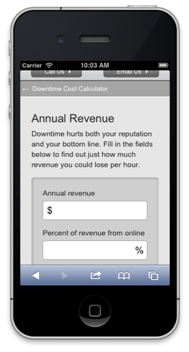 We have also made it extremely easy to access directly from your smartphone by going to: rackspace.com/dt-calc
Our aim is to provide you with a simple and quick calculator, but we do understand that there are also several other less tangible aspects to consider such as negative impact to brand reputation, customer loyalty (defection to competitors) and SLA-related punitive damages to name a few.
If you happen to be at EMC World in Las Vegas, be sure to drop by our breakout session at 4 p.m. PST on Monday, May 6.  We'll discuss the cost of downtime and how you can make your systems and apps more resilient.  Also, be sure to drop by our booth (No. 527) and try your luck at our interactive "Unlock the Cloud" touchscreen game for a chance to win a fabulous prize.
Calculating Downtime Costs
Monday, May 6
4:00 p.m. to 5:00 p.m. PST
Room: Murano 3205*
Rackspace offers a broad portfolio of resiliency solutions that can help protect and recover your important apps when disaster strikes. Visit rackspace.com/disaster-recovery-planning to learn about how our DR specialists can help remove the burden related to architecting, deploying and testing complex recovery solutions.
*Please note that the room is subject to change and you should check the EMC World Mobile Application when arriving onsite – just to confirm.
---
[1] Csaplar, D. (2012, February). Datacenter Downtime: How Much Does It Really Cost?  Retrieved from: http://www.aberdeen.com