Today, I would like to introduce you to a guest blogger, Dave Fowler, founder of Chartio. Chartio provides data analytics and visualization tools for business intelligence applications, and allows you to bring data from Cloud Databases and other data sources together into beautiful visualizations. Here is Dave:
At Chartio we focus on creating the best visual interface to databases. We connect to databases or services (like Saleforce and Google Analytics), extract the schema and create an intuitive drag and drop interface for creating the queries, charts and dashboards that you need to effectively understand what's going on in your business. Chartio makes data accessible to anyone in the organization. Anyone on your team can explore the data, build beautiful charts and dashboards and share their findings.
Chartio has interactive and playful charts, an intuitive and powerful query builder, a beautiful and customizable dashboard and is easy and fast to connect to data. We spend a large percentage of our time building connectors for different databases and ensuring that getting connected is as secure, fast and painless as possible for our customers. We also work hard to provide the same data exploration experience from data source to data source.
Rackspace Cloud Databases also makes it easy to connect to data. The special integration we did with Rackspace enables Cloud Database users to simply authenticate with their API Key. No shell commands, port forwarding or user permission granting is necessary. The developers at Rackspace have exposed everything we need via their APIs and for the first time ever you can now connect to a database with the ease of authenticating you find in connecting other third-party APIs.
Traditional BI data integrations take days to weeks to set up. With Chartio and the Rackspace Cloud it literally takes seconds. In addition, the data in your charts and dashboards is always as fresh as the data in your database.
Connecting to Rackspace Cloud Databases is so much easier than any other method that we host all of our demo databases on the Rackspace Cloud. We also encourage anyone wanting to do their analytics on a backup database to spin an instance up on Rackspace as it's by far the easiest solution.
How to Connect
For the short version, you simply need to get your API key and username from the Rackspace console and provide them when adding a new database in Chartio. For the full explanation continue reading.
1. Getting the API Key and Username
Log into your Rackspace Control Panel and in the upper right menu labeled with your username select API Keys.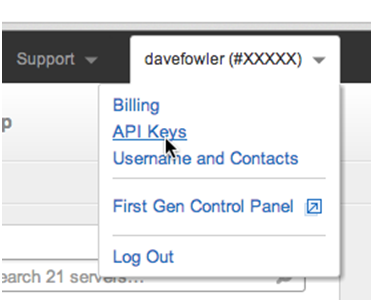 You'll be brought to the following page with the information you'll need. Click "Show Key" to display your key and copy it. Be sure to only copy the text and not the space afterward.
Also note your username displayed on that page as you will need it as well.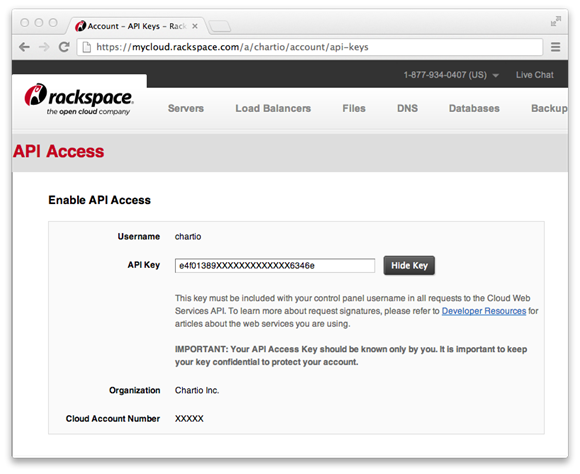 2. Connecting
Next you'll need to log into or create a Chartio account if you haven't already. Once logged in visit your Settings and click + New Data Source. You'll be presented with all of the different connections provided. Choose the one labeled Rackspace Cloud Databases.
You will now be presented with the form to input your Rackspace username, API Key and an option of where the servers are located (the default is United States).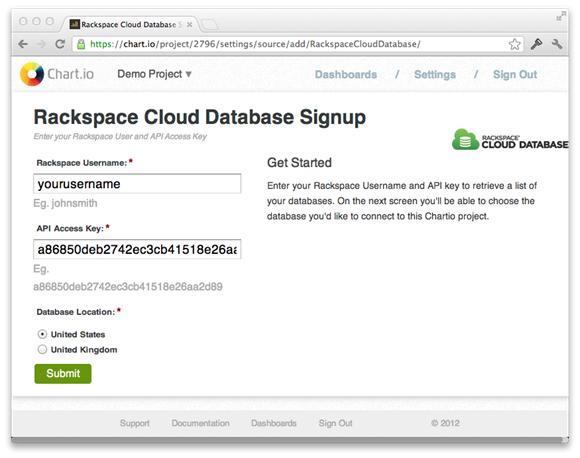 After submitting you'll be presented a list of all of your cloud databases and you can choose which to connect.
3. Chart!
That's it! Below is an example of a Chart you can create with Chartio. Chartio has pulled out the schema of your database and created a drag and drop interface for you to visually build the queries, charts and dashboards of your database data. Visit your dashboards, click Add Chart and start charting away!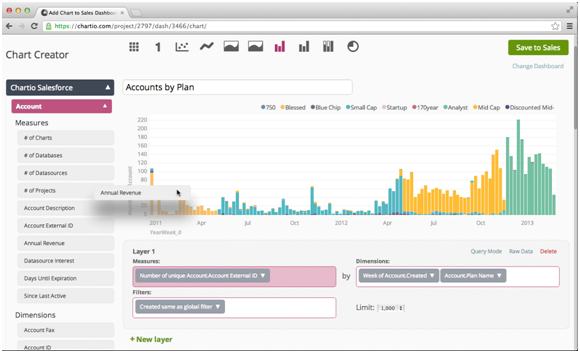 If you are interested in learning more about Chartio, please click [here] and sign up. Or watch our interview with Robert Scoble to learn more about Chartio:
Chartio: Building Beautiful Charts with Your Data, An Interview with Robert Scoble