You may have already heard about it. You may have already tried it in the Rackspace Control Panel. Automated application deployments is live at Rackspace. Launching common apps on the Rackspace Cloud is easier than ever with our automated application deployment service, which is now available to all users.
Do you want to run WordPress, Drupal, Magneto, PHP, Python, Rails …. in the Rackspace Cloud without the manual setup and confusion involved with the setup and installation? Would you like your deployments to be automated, using Rackspace's best practice setup, and execute faster than possible with a manual installation? This automated application deployment functionality is available today for all customers in the Rackspace Cloud Control Panel. We take our years of expertise, from the many thousands of application deployments we have launched, and offer that same expertise in an easy to consume fashion.
What are the benefits to you, the user?
No more researching how to perform installations of your favorite app, because we are capturing our knowledge and extending it to you in an easy to consume format
No more time-intensive, manual server builds. Our automation will save you time, and time saved means a better user experience
No more stress about whether your software is installed and configured correctly
Applications are deployed on actual Rackspace infrastructure, so you can rest assured that the performance is not in question
We do the Fanatical setup for you. Done and done!
Our Growing List Of Various Apps

Launch a php stack, a Drupal cms, a Magento e-commerce platform and much more… We do the setup for you. This deployment orchestration capability captures Rackspace's many years of experience building cloud environments, and packages it into a set of best-practice application blueprints for you to use. You can sit back and relax knowing the setup is done with your best interests in mind.

Just select the application or framework you want; complete the simple configuration steps; and we automate the setup. That's all it takes to make your cloud-based solution live.
How Do You Use It?
The solution is easy to find in our Control Panel under Deployments or the Create Server dropdown tab.
In just a few simple clicks, you will be able to select the application, platform or component that you would like to install from our growing list of apps. Then complete a few simple configuration steps and we deploy it automatically. All you really need is a cloud account and a domain for where you would like to deploy the application or framework and you are ready to go.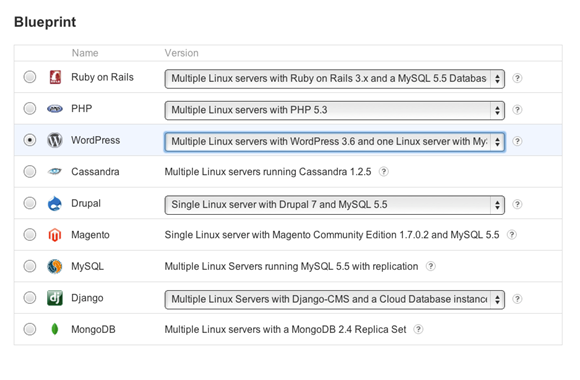 What if you don't want to make all of the configuration decisions? You can simply trust our recommended default configurations that come pre-populated for your convenience. Just pick an application and use our recommended settings. We want to make your path to productivity as easy as possible!
Passing On Our Fanatical Support
By encapsulating our recommended installation methodologies and fanatically enabling customers to perform the same deployments that we do, you are ready to get to business. This enables our support team to better assist you with higher priority needs. Our fanatical support team is ready to assist you at all steps of your cloud experience.
This Is Just The Beginning!
There is much more to come. Our list of supported applications, frameworks and tools will continue to grow. Additionally, Rackspace is fully on board with the OpenStack orchestration project, Heat. In the near future, we expect additional releases of the Deployment service that transition to using Heat for all things orchestration – this includes stack and configuration management, the ability to provide your own Heat orchestration Template and a public API that backs the Deployment service. Click here for more info on how to become an early access tester for the Heat API at Rackspace.
Note that our adoption of Heat may impact how applications previously deployed with the Deployment service are displayed and managed, so the Deployment service is still labeled as Early Access as we anticipate changes may occur. More news about the future of deployments will be coming soon. Stay tuned!
Thanks for allowing us to serve you in your journey to ultimate cloud productivity.