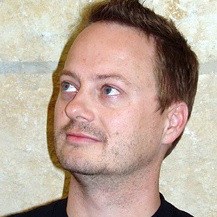 This post comes to you from Toby Owen, Rackspace Product Manager for Hybrid Hosting Solutions.
As discussed in a previous post, Rackspace offers a suite of computing services, from Managed Dedicated Servers, to Private Cloud, to the Rackspace Public Cloud. Many of our Managed Dedicated hosting customers utilize cloud services for various tasks. In today's post, I'd like to discuss how you can utilize both dedicated and cloud platforms at Rackspace in a more integrated fashion.
Customers running multiple web applications – from marketing sites to test sites to e-commerce – have been able to utilize Rackspace Dedicated Servers for some of those apps and Cloud Servers for others. Keeping some applications separated can allow you to test new applications without affecting your production environment.  Other applications can benefit from using the Cloud and Dedicated environments in a connected way.  With RackConnect, you have the option to connect these platforms to build a scalable, flexible compute solution that offers the performance of dedicated servers with the flexibility and scalability of the Cloud.
Up until now, Rackspace Dedicated and Cloud environments have not had the ability to talk to each other over a secure, private network. This is now a possibility with RackConnect (currently in Beta). Since that connection stays within the Rackspace datacenter, your servers can talk at wire speed with the added security of never leaving Rackspace's network.  You can even load balance between Dedicated Managed and Cloud servers, perfect for scaling web sites on demand.  Here's what this might look like with an F5 Load Balancer: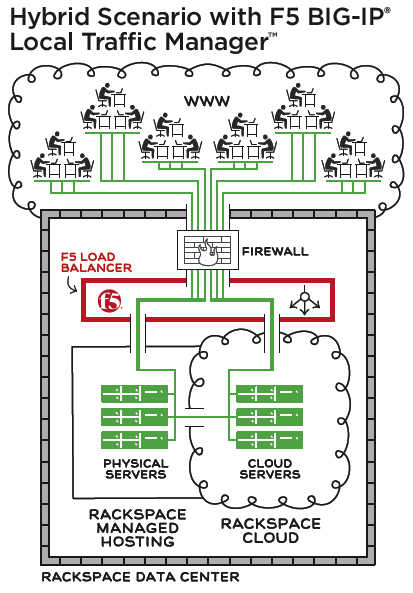 Use Cases
If you're already using Rackspace Dedicated and Cloud Servers, you are familiar with the benefits of using both platforms.  RackConnect allows for a more tightly integrated solution.  If you are currently using Managed Dedicated servers at Rackspace and have considered the Cloud but are unsure if your web environment is a candidate for RackConnect, there's a few use cases that might help you decide:
Fast Scaling of Web Applications. Your business might see a spike in traffic due to promotional events or seasonal traffic and it's hard to determine when that traffic will spike and by how much. The cloud allows you to scale up and down and pay for the extra capacity only when needed, while maintaining your main web infrastructure on dedicated gear.
SaaS vendor or Web Developer. If you are a developer of websites or software solutions that you need to host for your customers, Rackspace offers the right solution for your customers.  Fast scaling web platforms can be deployed quickly and easily on Cloud Sites.  Spin up a Cloud Server for each new customer in the Rackspace Cloud.  Dedicate a database server and web server in Managed for high traffic data-intensive solutions.  Match your customer's app needs with the right solution and price point, all under one roof.
Development, Test, & Production. We see this use case a lot. If you're in the initial stages of building your application, you can utilize the cloud so you don't have to invest getting dedicated gear set up quite yet, saving you time and money.   When you're ready for major load testing, spin up some more Cloud servers.  And when you're ready for production, promote your code directly to your dedicated gear.
Separate Secure data and Public data. You can maintain all your credit cardholder data on dedicated gear, while using the flexibility of Cloud Servers to host your public content (like your product catalog) in a connected way, even leveraging Cloud Files for your media content.
These are just a few use cases that would make you a good candidate for the RackConnect Beta program. Ultimately, RackConnect provides Rackspace customers with the best of both worlds: Dedicated Servers for mission-critical applications and the flexibility, scalability and fast provisioning that come with Cloud Servers.
At Rackspace, we're focused on enabling the capabilities that your IT infrastructure demands. Bringing Dedicated and Cloud environments together is one more way we are delivering on that mission, and helping you run a successful IT infrastructure.
If you're already a Rackspace Managed Dedicated customer and want to get started, contact your team at 1-800-961-4454. Not a Rackspace customer but want to learn more? Contact us at 1-800-961-2888, send us an email or catch us in live chat.