Since we launched Rackspace Cloud Databases in August 2012 we have experienced great commitment from our customers who have chosen it as their database platform. In this time, we have expanded the availability of Cloud Databases from three to six regions worldwide, keeping the pricing simple, improving reliability and increasing performance.
As the holiday season kicks into high gear, we want to share an early gift with you: we've added a host of new capabilities to Cloud Databases and are passing along some of the savings we have achieved as the product has scaled.
First, let's highlight some of the newest Cloud Databases features:
New Developer Command Line Tools
At Rackspace, we are committed to simplifying the user experience and empowering developers to successfully consume and build on the open cloud. Graphical user interfaces are great, and the Rackspace Control Panel is best in class, but many of our customers are command line focused and prefer the power of a simple development-coding tool.
In addition to the SDKs we provide currently, we are introducing an open Command Line Tool (CLI) called "Trove Client" based on the popular OpenStack initiative. Trove is a fully open source CLI that is being actively developed in the OpenStack community and, on top of that, it is compatible with Cloud Databases.
The CLI provides command line access to Cloud Databases users and is simple to install and use. Refer to our developer documentation for more details on installing the Trove Client and a summary list of all the available commands. This is a great resource for customers who would like to use features that are only available through the Control Panel or for easily managing a large number of instances and databases.
Manual Backups via API or CLI
Since we launched last year, Cloud Databases has relied on a robust storage system that provides increased performance, scalability, availability and manageability. Applications with high I/O demands are automatically performance optimized and your data is protected with multiple levels of redundancy. And starting today, Cloud Databases supports manual backups and restores to and from Cloud Files via the Cloud Databases API and the Trove command line tool (CLI). Control Panel support is coming soon.
This feature greatly simplifies the management of your database backups utilizing a simple and low-cost cloud storage platform. During the backup process, the resulting database files are directly streamed to your Cloud Files account for storage (Cloud Files storage fees will apply). And restoring from those backups is easy! You can restore a backup anytime by simply creating a new database instance and specifying the backup you would like to restore from.
Monitoring Support
Lastly, we have added Rackspace Cloud Monitoring as a fully supported feature in Cloud Databases. Monitoring is available for all cloud database instances via monitoring checks including Load Average, CPU, Memory, Storage (Disk), Network and a number of MySQL metrics. On top of that, all Cloud Databases instances now come preconfigured with an adjustable monitoring alert for storage utilization to help you avoid inadvertently reaching your storage limits. You can leverage the API or Rackspace Cloud Monitoring CLI to get usage statistics. Check out the Rackspace Cloud Monitoring API docs and Knowledge Center articles on how to configure and use Cloud Monitoring through API and CLI. Control Panel support is coming soon.
In addition to the API and CLI tools, we have Cloud Intelligence, to engage the users who prefer interaction with a monitoring UI. Please keep sending us feedback and watch for future updates
Whether you are an existing Cloud Database customer or just getting started, we hope that these enhancements allow you to operate even more effectively with our platform. We will check back in periodically as we will be making more announcements over the next several months.
Shared Savings
As more customers use a technology, it becomes less expensive for us to provide, so we're now pleased to pass along savings of as much as 53 percent.
Below is a simple price comparison for each region and instance type. If you are a current Cloud Databases customer, you will automatically receive the new pricing on November 19, 2013.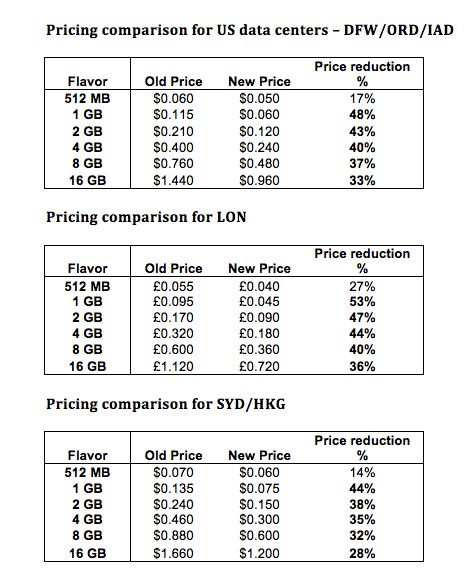 For additional pricing information, check out our Cloud Databases pricing pages here: Dallas, Chicago and Northern Virginia; and London, Sydney and Hong Kong.
We're excited about delivering more value to Cloud Databases users and we're committed to bringing more improvements and delivering the most Fanatical database experience!