Rackspace now offers multiple region support for Cloud Files, a feature that allows our customers to select in which U.S. data center they would like to store content. Our Dallas and Chicago data centers are the first two data centers included in our multi region support. In other words, you can choose to store your data in our Chicago data center, Dallas data center, or in both regions. This new feature adds to our existing Cloud Servers capability to choose in which U.S. data center to build your Cloud Server.
Using Cloud Files multi region is perfect when you want to locate your Cloud Files and Cloud Servers (or Rackspace Dedicated Servers) in the same data center to reduce latency and take advantage of free bandwidth when using our internal data center network, ServiceNet. Customers who only serve certain geographic regions may also find it helpful to locate the Cloud Files objects as close to that region as possible.
You don't need to do anything to set up multi region capabilities for your account as all U.S. accounts now have endpoints for both Dallas (DFW) and Chicago (ORD).  Customers using the API can simply choose which endpoint to interact with, and once authenticated against that endpoint, the Cloud Files experience is just as it was before.
Our MyRackspace and next generation Cloud Control Panel users can also take advantage of the new multi region feature. When creating a container, you can select your desired data center and once containers are created, Rackspace will show to which region they belong. Any Cloud Files customers using the first generation Cloud Control Panel (manage.rackspacecloud.com) will need to begin using the next generation Control Panel (mycloud.rackspace.com) to take advantage of this feature.
The following screenshots illustrate this new capability:
MyRackspace Portal – Create New Container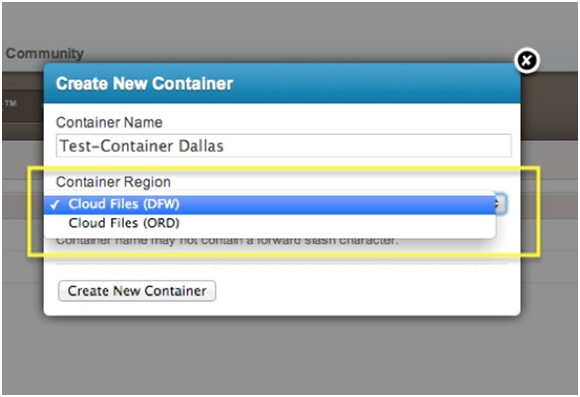 Next Generation Cloud Control Panel – Create New Container
Next Generation Cloud Control Panel – List Containers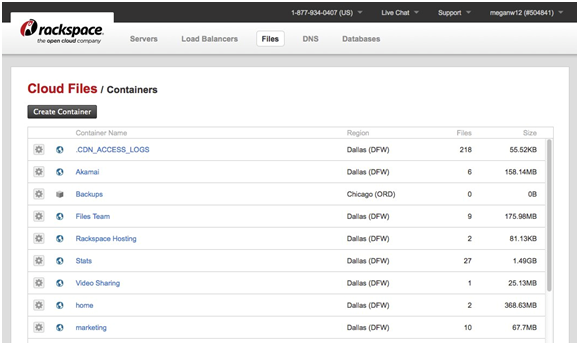 Our API users will also see changes in their Service Catalog, which now shows multiple endpoints for "object store" (click image to enlarge):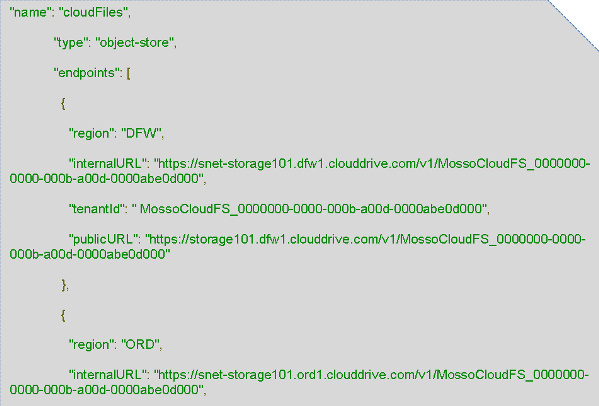 Cloud Files will NOT automatically replicate data across regions. Customers who would like to have their data in both places should ensure PUTs are done to both endpoints and will pay for data stored in both locations along with related bandwidth charges.
All existing customers will have their current region set as their "default," meaning that it will always be ordered first in the list of endpoints when authenticating against Cloud Files using our Auth 1.1 or 2.0 APIs. Customers using Auth 1.0 will still only have a single endpoint returned.
And if you have customers  around the world, don't forget you can deliver your content rapidly with Akamai's Content Delivery Network (CDN), which caches content at global edge locations and saves users time because the requested content is received from within the region instead of coming from the origin server in Dallas or Chicago.
If you have any questions about multi region support for Cloud Files, please feel free to ask them here, email me directly at megan.wohlford@rackspace.com or contact our Fanatical Support team.