Enterprise IT is under great pressure to decrease cost, increase agility and improve speed of delivery. At the same time, IT is presented with a unique opportunity to achieve better alignment with business, which is truly transformational. Undoubtedly, virtualization, as a horizontal technology, has helped datacenters reduce operational costs. Meanwhile, cloud computing, as a service delivery model, will help enterprises shift risk to their service provider and allow them to take bigger steps towards changing business outcomes. This increased level of agility to help enterprises capture new business opportunities, respond to market changes and address new compliance mandates is a crucial attribute for the transformed IT. The new IT – an amalgam of people, processes and technology – focuses on innovation and less on operation. In this post I'll explain further. Read on…
According to Gartner's report "IT Metrics: IT Spending and Staffing Report, 2011," depicted in the pie chart below, only 14 percent of IT spending in 2011 was dedicated to innovation and new functions that can transform the business. That's compared to 66 percent of IT budget spent on operations, maintenance and support, or on "running the business;" and 20 percent spent on migration, upgrades, enhancing IT systems or on "growing the business." Additionally, IT is already stretched with aging datacenters, high energy costs and resource shortages. One can never underestimate the amount of work needed to operate the datacenter in order to keep the business running. Likewise, we cannot ignore the potential positive business outcomes that result from dedicating an additional few percentage points of the budget to innovation and addressing new business functions, challenges and goals.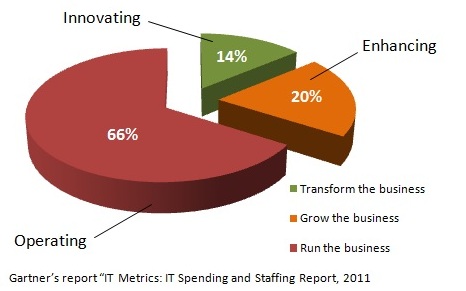 It is only logical for IT to strategically drive towards better alignment with business while shifting operations to service providers that arguably have the economy of scale on their side. While cost containment and reduction are important, enterprises fundamentally pursue cloud computing for agility and speed. This is particularly true since adopting a cloud computing model is not without frontend expenses. It involves the cost of retiring systems, migrating, re-architecting, re-staffing and evolving many IT processes. This spend will ultimately yield a long-term competitive advantage and significant cost savings.
To successfully achieve this level of transformation and gain stakeholders buy-in, it is imperative to sustain deliberate programs to discover these transformational opportunities, identify critical success factors and articulate return on investment. Understanding the current state and future objectives, while developing an iterative approach to a clear roadmap, will improve business outcomes in specific and measurable ways including:
Reducing time-to-market through quick opportunity capture and improved agility
Freeing up resources for developing services to meet business demands in a timely fashion
Improving productivity by standardizing on systems, tools and processes
Increasing operational efficiency through service automation and orchestration
Lowering and containing the cost of operations and delivering competitive business value
It is worth taking a closer look at how enterprise solution architecture is changing for the new service delivery model, and the implication it has on both IT and business. As depicted in the graphics below, enterprise architecture is shifting into highly componentized services that are not only integrated as a delivery unit, but are also orchestrated with additional services to deliver core business value.
This cloud services-based architecture will have a profound effect on service delivery and consumption for enterprises. Understandably, hybrid delivery is the practical delivery model since it is mainly a function of security, governance, control and performance, irrespective of source or location. In this model, distributed IT services are composed, delivered and consumed within the risk envelop of enterprise IT. As with any strategy, managing risk is its most important aspect, and a transformational IT strategy through strong governance is no exception.
It is important to undergo a process of defining the target IT Infrastructure along with a list of the services delivered, business cases and critical success factors that will help achieve the desired business outcomes and deliver cost efficiencies as part of this transformation program.  This program will also transform:
People: Retrain, refocus, reassign for business-centric IT
Governance: Improve and extend to service monitoring and compliance
Enterprise Data Model: Consolidate, normalize and integrate
Applications: Profile to retire, retain, re-architect, replace or host
Compute Infrastructure: Centralize, consolidate, virtualize, automate or collocate
Enterprises will realize the value of the transformation quickly in these key categories:
1. Lowering of real estate cost, power and cooling, capital expenses and operational expenses
2. Acceleration of business growth through better alignment between business and IT
3. Reduction of the overall delivery risks and increased global outreach
Looking ahead, there are three areas of transformation taking place in the industry itself with intriguing dynamics and dependencies among them:  IT is transforming into a service-centric organization; service providers are developing new service offerings to address the growing demands of enterprises; and Independent Software Vendors (ISVs) are re-architecting their software as SaaS to capture the cloud delivery model. It is critical that enterprises recognize that cloud IT transformation is a journey and one should approach it iteratively. Enterprises must also identify opportunities that are relatively quick to deliver while providing the highest return on investments. Most successful enterprises start by looking at their business and IT strategies and services while profiling their applications to plan their cloud initiatives. Cloud computing is truly poised to help enterprise build differentiated services by actualizing a new level of IT service centricity. In the future posts, I will discuss various important aspects of this transformation in more details.