I've been thrilled at the response from our customers to the launch of Cloud Networks. I've talked to many customers who are excited to begin using this new network power in their solutions. I also spoke last week at Cloud Expo in Santa Clara, Calif., and it was exciting to see the response from the heart of the Silicon Valley. Many of the attendees were from local tech firms and they were surprised that we had implemented software-defined networks at this scale so early in the life of the technology.
Today, I want to address some of the specific questions we've received from customers about Cloud Networks:
If everyone doesn't get Cloud Networks immediately, how do I know when I have it?
In the "Create Server" screen you will see a "Create Network" button near the bottom.
Alternately, you can list your absolute limits with either the API or with the rackspace-novaclient command line interface. Look in your results for maxTotalPrivateNetworks to be greater than zero. This will mean that Cloud Networks has been enabled for your account.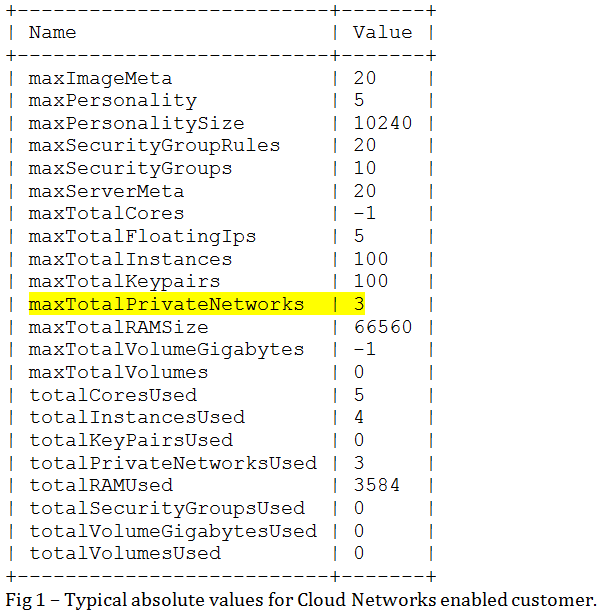 I'm a Managed Cloud customer and I am required to create all of my servers with both PublicNet and ServiceNet. Why can't I just eliminate those networks when I use an isolated network?
We need public connectivity to Managed Cloud Servers in order for our Support Rackers to log into your server when you need our support. ServiceNet is also required for the server to access other Rackspace systems for automations, patching, etc. In order to ensure a fanatical experience, we require these networks on all Managed Cloud Servers.
I see a network on the Control Panel called "ServiceNet." In the API or the command-line tool, I see "private" as the network name. What gives?
We have traditionally referred to our internal network named "ServiceNet" as a "private" network. In the past, this term meant that ServiceNet was a Rackspace private network that wasn't the public Internet. Today, we also allow customers to create their own isolated networks. This has created some confusion about the term "private." We refer to ServiceNet as "private" in the API for backward compatibility of any automation that customers may have created in our classic cloud. Users should refrain from naming one of their own networks "private," since this could create confusion with ServiceNet.
In the coming weeks, I'll provide more hints and tips for Cloud Networks, as well as suitable use cases. Make sure that you check back here soon.