Rackspace Private Cloud Software is free. We give it away. We arm you with the software you need to deploy a private cloud in your own data center, and we don't ask for a penny. It's open source and powered by community OpenStack, the same cloud operating system that powers our open public cloud.
We're darn proud of our private cloud software. It gives you a world-class private cloud that can scale and frees you from the threat of lock-in. It's built on a common code base and offers you modular services. And it just keeps getting better: we recently added the OpenCenter Graphical User Interface and API, high availability for OpenStack services and more host operating system choice in the latest software release. We've taken the lessons we've learned from running OpenStack clouds and built this into our new Private Cloud Software so you can realize those same benefits.
And while the software is important – and typically what most people see — there's a lot more than meets the eye to running an enterprise grade private cloud. Think of it this way: the software is just the tip of the iceberg. Experience implementing and operating the software is much more important than the bits and bytes – ask anyone who implements CRM and they'll tell you that. There's still a need for great software, for sure, but the old software license model is outdated – our value add is that we have the hands-on experience it takes to run and operate clouds at scale, something few software vendors can claim. For example, at Rackspace we have deployed nearly 2,000 patches and upgrades to our public cloud in the last six months. We run as near to OpenStack trunk as possible to make sure customers get access to the latest features and updates quickly. This is expertise that we can pass directly on to you in our Private Cloud as well. We also have training and certification programs in place that can help you build the skills that you and your IT organization need in the cloud.
This is why running a private cloud requires you to look under the surface – beneath the software that's already visible — and see managed services and operations.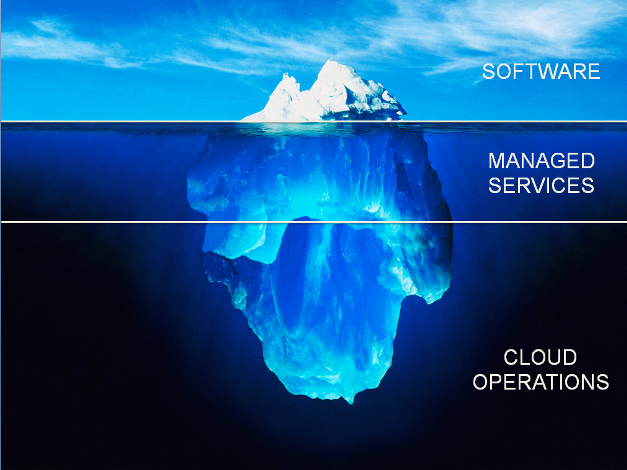 Managed services are integral to running a private cloud. From system design and on-boarding to installation and configuration to troubleshooting, a breadth of managed services just below the surface ensure that the software runs as intended, and that it's not your concern. This helps us stay in tune with your cloud environment. If a major business impacting issue occurs, we can react swiftly – we helped you design and deploy your cloud, so we know the intricacies of your environment. You don't have to waste time explaining it to us when something goes awry.
But most important in our three-pronged cloud strategy is the bottom layer, the section that keeps the iceberg afloat: cloud operations. This is where the magic happens. With Rackspace Private Cloud, our expertise in operating clouds sets us apart. Yes, we provide great software, but without a team of experts to help you run it, the value proposition of a private cloud environment dwindles. Our team helps you run like Rackspace.
We deliver a team of DevOps engineers that can capture real world customer and cloud issues and sometimes even write code directly into our software, which ultimately helps drive the direction of our software roadmap.
With environment sizing, patch management and upgrades, the operations become the lifeblood of your cloud. We think that we run clouds better than everyone else, and we prove it by running the world's largest OpenStack-powered cloud. You don't have to hire and train a team to operate your cloud – save that time and expense to add value to your business.
If you want just software, there are a host of players out there to choose from. If you want the trifecta of great software, managed services and cloud operations provided by a team of experts that know your environment cold and can run large OpenStack clouds at scale; come to us. We run your cloud so you don't have to, and you don't have to dive deep beneath the ocean's surface to see that.