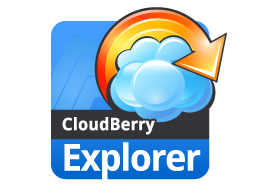 This is a guest post written and contributed by Alexander Negrash, Marketing Manager at CloudBerry Lab, a Rackspace Cloud Tools Partner.  CloudBerry Lab provides file manager and backup utility in order to help Rackspace users leverage the cloud storage (Cloud Files).
CloudBerry Explorer freeware is an FTP-like file manager that allows you to connect to any number of Rackspace accounts directly and manage containers and files. With CloudBerry Explorer, Rackspace Cloud Files become an extension to your local storage. You are no longer limited to the classic data storage on your local drive(s). With CloudBerry Explorer, you can move files to Cloud Files just as easily as managing them on your local drive(s). You can browse, create, and delete files as well as synchronize folders on your PC and cloud storage and more.
We are constantly developing the program and we will add features such as URLs generation (file sharing) and Capacity Reports (storage space tracker) . Besides we will also add object metadata and ACL editor.
For those who don't need advanced file management with CloudBerry Explorer freeware, we are about to release CloudBerry Drive. This application is designed to expose Cloud Files storage as a local disk. With such approach files on the cloud can be managed the way as if they were stored locally. Sign up to get the first release of CloudBerry Drive.
Another way to leverage Cloud Files is to use it as online backup storage . We are also about to update our online backup product to support Rackspace. CloudBerry Backup comes with a solid set of features such as real-time backup and block level updates and helps automated data backup to Rackspace Cloud Files. CloudBerry Backup allows having a full control over the backup process. In addition to that backup data can be encrypted and compressed before sending to the cloud. Combination of a standalone program and Cloud Files storage will provide the true security to Rackspace users.
So there are two ways Rackspace users can leverage Cloud Files with CloudBerry Lab tools: (1) file management with CloudBerry Explorer and CloudBerry Drive (coming soon) and (2) automated online backup to Cloud Files with CloudBerry Backup (Cloud Files support will also arrive shortly).