Ben is the founder and managing director of
Diversity Limited, a consultancy specializing in
Cloud Computing/SaaS, Collaboration, Business strategy and user-centric design.  In 2011, he is curating the CloudU program sponsored by Rackspace.
CloudU, the education series I'm hosting with the support of Rackspace, officially launched last week and so far the feedback has been really positive. The first topic in the series is Revolution not Evolution: How Computing Differs from Traditional IT and Why it Matters. This first paper emphasizes the revolution that Cloud Computing is bringing to organizations, something we see as nothing less than a paradigm shift in the way businesses function. Given this fact, it's pretty astounding that the awareness of the Cloud among mom and pop businesses is reasonably low—but then again, mom and pop businesses are often too busy meeting payroll and serving customers to spend much time reading blogs.
Because this is such an important topic I'm thrilled about the first webinar that we will be having, especially since I'll be talking with both Charles Babcock, editor-at-large of InformationWeek, and John Engates, CTO of Rackspace. We'll be running through a summary of the whitepaper itself, followed by an open discussion that focuses on questions and topics suggested by attendees. We'd love to have your input, so please feel free to register for the webinar here and submit questions in advance either through Twitter using the hashtag #cloudu or by sending an email to cloudu@rackspace.com.
Special Promotion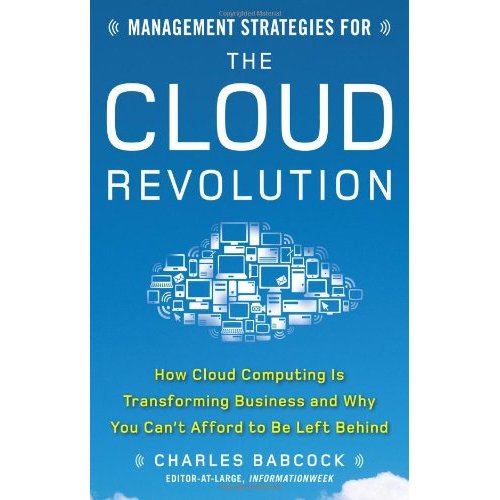 As a special kickoff to CloudU, the next 300 people to register for more information about the program, will receive a free copy of Charles Babcock's new book Management Strategies for the Cloud Revolution: How Cloud Computing is Transforming Business and Why You Can't Afford to Be Left Behind.* This book is a great introduction to some of the most important topics in cloud computing and how they affect real businesses.
This first whitepaper  lays the groundwork for future lessons in the CloudU series, detailing why Cloud Computing is truly a revolution. The topics covered in this first paper include:
A New Dawn or Just Another Day, Ellison vs Benioff
From Water-wheel to Utility Power: An analogy for the Cloud
Mainframes to Cloud: A brief history of technological innovation
Virtualization: The ability to increase computing efficiency
Democratization of Computing: Bringing enterprise scale infrastructure to small and medium businesses
Scalability and fast provisioning: For IT at web scale
Commoditization of infrastructure: Enabling IT to focus on the strategic aspects of its role
I hope you enjoy the newest whitepaper and look forward hearing your questions at the webinar this Thursday!
*Terms and Conditions
Giveaway begins 4:30 PM CST on January 24, 2011. The first 300 persons to register for more information regarding CloudU will receive a free copy of Charles Babcock's book, Management Strategies for the Cloud Revolution: How Cloud Computing Is Transforming Business and Why You Can't Afford to Be Left Behind.
To register, visit www.rackspacecloud.com/cloudU and fill out and submit the registration form. You must provide complete information to register and be eligible to receive a copy of the book. No more than 300 copies of the books will be given away.
Limit: one (1) book per person. Employees, officers, and directors of Rackspace US, Inc. and any of its parents, affiliates, subsidiaries and any of the immediate family members (spouse, parent, child, sibling and their respective spouses) and/or those living in the same household as any of the aforementioned (whether related or not), are not eligible for this giveaway. Rackspace US, Inc. may use the information you provide when registering through www.rackspacecloud.com/cloudU to send to you messages regarding products, services, and promotional offers that may be of interest to you. Personal information collected in connection with this giveaway will be used in accordance with Rackspace US Inc.'s privacy policy, located at www.rackspace.com/information/legal/privacystatement.php.
Registrants agree that Rackspace US Inc., its parents, subsidiaries, employees, officers, directors, representatives, and agents, will have no liability whatsoever for any liability for any injuries, losses, or damages of any kind to persons or property resulting in whole or in part from acceptance, possession, or use of the book or use of www.rackspacecloud.com. Everything regarding this giveaway, including all copies of the book and the website www.rackspacecloud.com, are provided "as is" without warranty of any kind, either express or implied.