I spend a lot of time traveling all around the world talking about Cloud Computing. Often I end up talking to IT and financial folks who want to have a discussion about cost, usually it goes along the lines of "But cloud WILL save me money won't it?"
I'm kind of against these sort of black and white discussions, mainly because they miss the real point of Cloud Computing, that is the value that cloud can bring to an organization. I like to think that the discussion around Cloud Computing and cost should instead be had around the broader issues related to Cloudonomics (a term invented by one of the real thought leaders in the space, Joe Weinman). So, what impacts does Cloud Computing have on an organization? Well, as we see it, cloud impacts in the following ways;
– It lowers the opportunity cost of running technology
– It allows for a shift from capital expenditure to operating expenditure
– It lowers the total cost of ownership (TCO) of technology
– It gives organizations the ability to add business value by renewed focus on core activities
As an aside, there's a really interesting conversation going on on Focus.com discussing total IT spending – the consensus among most of us is that, while the unit price for IT will reduce because of the cloud, total IT expenditure will not but, in a nice segue back into my paper, this is actually a good thing as that extra IT spend goes directly into value adding services.
The issue here is that traditional IT expenditure has been skewed towards just "keeping the lights on." The diagram below depicts Gartner findings that 80% of IT expenditure is non value-adding. If we remove that 80% inefficiency, and replace it with services where every penny of spend directly relates to core business, we enable a step change in the way IT departments work, and the value they drive for the organization.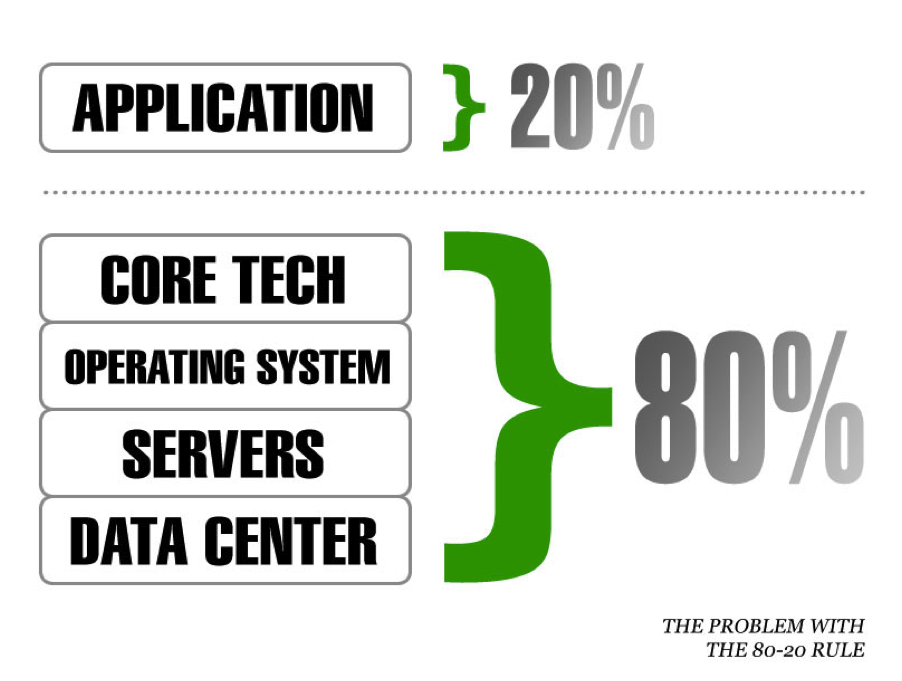 In the paper we talk around several factors of Cloudonomics – the move from CapEx to OpEx, Total Cost of Ownership and Strategic Focus. We include a great case study about a fashion retailer that moved all their point of sale service to a SaaS solution from VendHQ, and in doing so saved time and money but the key thing for me here is the direct relationship that Cloud Computing introduces between cause and effect. With Cloud the equation is simple – spend can be directly related to bottom line business benefits.
There's a lot more information in the paper itself – you can download it here. I'd also encourage you to register for the second CloudU webinar – on this webinar I'll be joined by Bernard Golden CEO of Hyperstratus and blogger for CIO.com and also Lew Moorman, President of Rackspace's Cloud Division. It's going to be a really interesting session – come and join in.