For months, Rackspace has been pushing for a crackdown on so-called "patent trolls," which have been targeting a growing number of startups and enterprises.
These patent assertion entities (PAEs) target every sector of the American economy from realtors and financial services to restaurants. Even coffee shops are being sued by trolls who claim to hold patents on public Wi-Fi. Many of these companies are left in a rut, where their only option is to pay up or simply close their doors and go out of business.
The bottom line is that patent trolls are an endemic.
This week, we took the patent trolls conversation to SXSW, where Rackspace Special Counsel Alan Schoenbaum joined an all-star lineup of panelists to discuss how we can protect ourselves from the tsunami of patent lawsuits. His co-panelists included Congressman Hakeem Jeffries, Congressman Blake Farenthold and Electronic Frontier Foundation attorney Julie Samuels.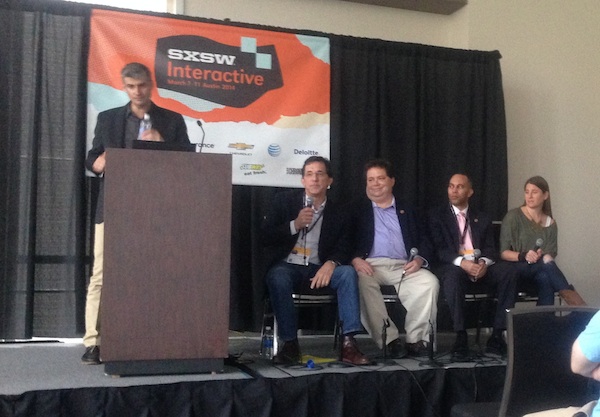 Here's a recap of their conversation, which was moderated by Michael Petricone, senior vice president of government affairs at the Consumer Electronics Association:
Michael Petricone (moderator): How did you get involved with the patent trolls issue?
Alan Schoenbaum (Rackspace): "Several years ago Rackspace started writing code and we drew some lawsuits. The first lawsuit, at the advice of our counsel, we settled for not very much money…[Now, we've decided that] we're going to take whatever weapons we may have and we're not going to worry about costs, and we're going to fight."
Congressman Blake Farenthold: "I got involved after I met Alan [Schoenbaum] at South by Southwest last year. As we started researching what was going on with patent trolls, we learned it [targets] a wide coalition of companies. Where does it stop? When patent trolls run out of businesses to sue, they go to small businesses. When they run out of small businesses, are they going to get a list of [individual] people? There's no end in sight. For a lot of folks just starting a business, the last thing they want to deal with is a lawsuit."
Congressman Hakeem Jeffries: "Earlier in my career when I first started on in the judiciary committee, I was informed that we were going to attend a hearing on patent trolls. It was the first time the term had been presented to me. It was not something that I had ever come across in my previous six years on the New York state legislature. My first impression was that it came across as a derogatory term."
Julie Samuels (Electronic Frontier Foundation): "When I was working as a patent lawyer, my phone started ringing, and I started hearing from more app developers than I can remember. Hundreds of app developers were getting these thick packets in the mail from patent trolls. Unfortunately patent trolls are known as a 'tax on innovation.' When you work in the app community and see a little bit of success, you know the troll suit is going to come next."
Michael Petricone (moderator): What's most important when it comes to reform?
Congressman Blake Farenthold: "The biggest reform we made is having the patent trolls tell you what they are suing you for rather than being broad and vague. If it turns out the case is frivolous, the patent troll doing the suing would have to pay the opposing party's litigation fees."
Congressman Hakeem Jeffries: "The cost of litigation can range anywhere between $2 million to $5 million. The heart of those costs are anchored in discovery. It's very expensive, so it's important to limit the scope of discovery…because the entire extortionary premise of the patent troll is bringing a claim knowing that you'll face a very expensive lawsuit largely anchored in discovery." 
Michael Petricone (moderator): A strong anti-patent trolls bill passed in the House with overwhelming bipartisan support. What can we do to move this forward in the Senate?
Alan Schoenbaum (Rackspace): "Send an email to [Senator] Harry Reid and ask him to pass this issue."
Congressman Blake Farenthold: "There's nothing that beats good 'ol grassroots advocacy. Talk to your senator. Find out when he or she is going to be at an event in town. Say that you need their help with patent trolls. You really cannot underestimate the power of grassroots. The letters make a difference, but in-person contact makes a difference."
Congressman Hakeem Jeffries: "I have to reiterate the impact of advocacy. Hearing from people in the district that I represent about how this problem is impacting them [is valuable]. Essentially, at the end of the day, that's what [congressional representatives] are sent to do."
Here's a full lineup of Rackspace-related activities planned for SXSW. And keep up with Rackspace specialists on Twitter throughout SXSW with the hashtag #SXRackspace.