If you want to be inspired by high school students who strive to better themselves and learn how to code in this Big Technology world we live in, than keep an eye open for one of the many CodeDay events going on across the country.
Rackspace, along with Splunk and Intellectual Ventures, had the opportunity to volunteer at CodeDay event hosted by HubAustin on Saturday, February 15. Twenty-three high school students joined us for the event, which ran through the night until Sunday. It was very cool to watch parents drop off their kids and to witness the pride and excitement they had in their child's earnestness to learn how to code.
Each student took turns coming up to the front of the room to share their ideas for new projects that they wanted to develop. A huge smile came over my face as I watched these students talk about their technical abilities and their desire to learn. They weren't shy about asking for the help they needed to build out these projects i.e. coding skills and creative ideas.
During the CodeDay event, Rackspace gave students developer discounts to use for their projects. A number of students were already talking about hosting the infrastructure for their apps on the Rackspace Cloud. We also hooked the students up with some really cool Rackspace backpacks and laptop stickers.
Over the course of the two-day event, several cool projects were introduced and worked on. A couple of the winning final projects were: Radius, a mobile app that shows and gamifies social places and interesting features of the areas around you within walking, biking or driving distance; and Track This Element, a browser extension that tracks changes on a web page independently of something like an RSS feed.
It was truly awesome to help the next generation of developers get excited about code and assist them in building their projects. I look forward to doing it again.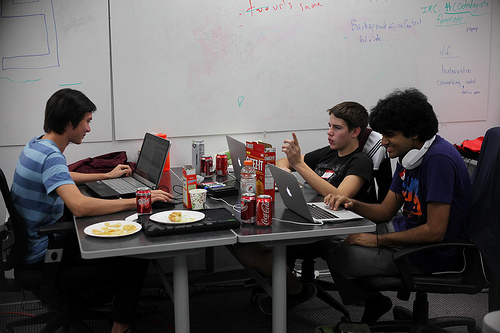 Want to help high school students learn to code? Join us for SoHacks (School's Out Hackathon), a two-day hackathon being held June 13 and June 14 at Rackspace's San Antonio headquarters (aka The Castle). For more information, check out: sohacks.com