One of the tenets of Fanatical Support is proactively serving our customers – providing solutions to problems before customers know they have them and before they even have to ask.
And last week, the Rackspace Community Team was honored for its contributions to this important mission. The team took home a silver award for Best Use of Technology in Customer Service – Computer Services at the eighth annual Stevie Awards for Sales & Customer Service. This marks Rackspace's fourth Stevie Award in two years.
This year's competition saw more than 1,500 nominations – a 36 percent increase over 2013 – for organizations of all sizes and in virtually every industry. A panel of preliminary judges comprising 129 professionals worldwide determined the list of finalists. Entries were considered in 126 categories for customer service and contact center achievements, sales and business development achievements, new products and services and solution providers.
The Stevie Awards are considered the Oscars of the business world, and the Sales & Customer Service awards honor companies across sales, contact centers and customer service. This year's Sales & Customer Service awards were presented during a gala banquet on Friday, February 21 at the Bellagio in Las Vegas. More than 400 nominated customer service and sales executives from the US and several other countries attended.
The Community Team took home the silver Stevie Award in the Customer Service & Contact Center category for its nomination "Rackspace Community Forum Provides Support that Reaches Beyond Customers." The nomination highlighted how the Rackspace Community Team created the Rackspace Community Forum to provide a digital version of Fanatical Support for not only our customers, but for everyone.
The Community is supported by Rackers from throughout the company – project managers, support teams, leadership – all of whom provide support on a wide range of topics, regardless of whether those topics specifically pertain to Rackspace's products and services. In just 10 months, the Community has swelled to more than 4,000 registered members from over 165 countries who have created 3,000-plus discussions that provide for customers.
The Rackspace Community Team holds itself to a strict three-hour response time. Whether that means finding a Racker to answer a specific question or isolating a support Racker to tackle a problem beyond the window; the team gets it done in three hours or less. Now that's Fanatical!
Check out this picture of Ian White and Charnell Lucich from the Community Team accepting their award in Vegas.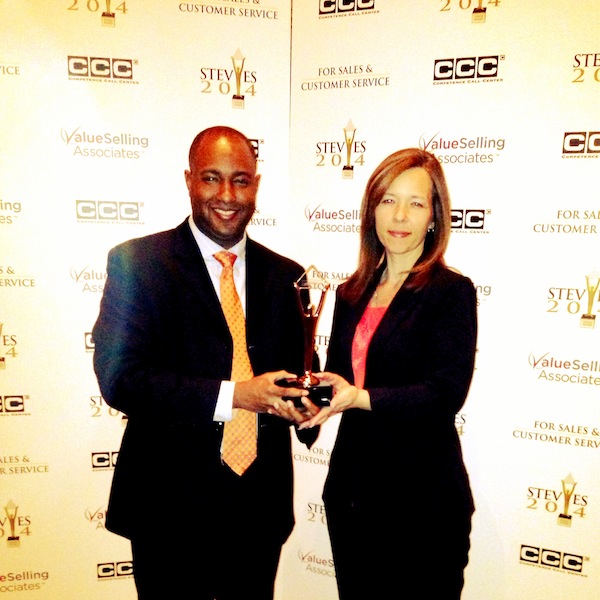 Let's all congratulate the Community Team on its silver Stevie Award and its much-deserved recognition for the Fanatical Support each member provides our customers on the Rackspace Community Forum.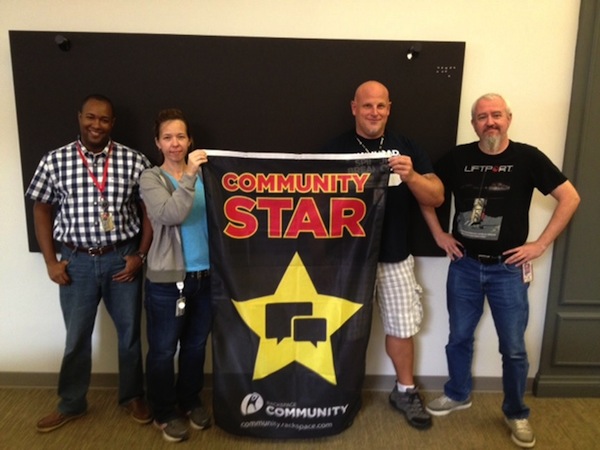 Check out our previous Stevie Award wins.