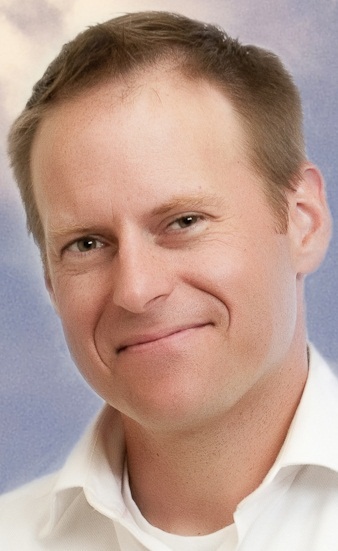 This post was written and contributed by Jeff Echols, Senior Director of Cloud Strategy and Alliances at CommVault, a Rackspace Cloud Tools partner. Today, CommVault announces Cloud DR solution.

While many CommVault users have been interested in cloud storage as a low-cost, long term repository for backup & archive data, the more interesting topic has been what can be done to the data once it gets to the cloud. By far, the most frequent request centered on disaster recovery. This week, CommVault and the Rackspace Cloud announced 'Cloud DR', an affordable solution that combines enterprise class data management software with on-demand cloud infrastructure.
Traditional DR is unaffordable for small and medium sized businesses because it typically means buying duplicate hardware infrastructure that is then hosted and/or managed within a service provider's facility. High price tags usually prevent the mid-market from implementing this type of DR solution, which defaults back to sending backup copies to tape for offsite storage in the event of a disaster. While this was an affordable alternative, tape management is complicated and the recovery time is typically measured in days.
Enter CommVault and the Rackspace Cloud. This same tape-based customer now can replace the tape tier with Rackspace Cloud Files – a cloud storage tier that can eliminate tape related capital expenses with a pay-as-you-go operational expense. This also can free tape related headcount for more strategic projects within the organization.

While these are not new benefits to cloud storage, the Rackspace Cloud has the added benefit of delivering Cloud Servers that can access backup data residing in Cloud Files. This means, in the event of a disaster, CommVault customers can recover backup data into a Cloud Server – eliminating the need to bring backup data back across the WAN.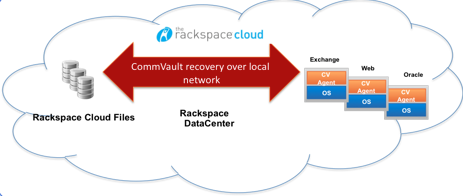 After restoring the appropriate backup data into each Cloud Server, end users can then be re-routed to the new Cloud Servers – delivering the following benefits:
Much faster recovery times. Cloud DR will typically enable recovery within hours instead of days since administrators are not left waiting for tapes to come back while they scramble to find hardware to recover to.
Much lower infrastructure costs. As these are Cloud Servers, you pay for them when you need them. Once your original site has recovered from the disaster, you can eliminate the cloud servers to stop paying for them.
The entire backup and recovery workflow is managed from a single pane of glass – CommVault's CommCell console. End-user policies automate what data and when it moves into Cloud Files, greatly reducing the complexity of keeping track of data and getting it back when you need it.
With Rackspace Cloud Files starting at .15 per GB per month and Cloud Servers starting at $11 per server per month, this appears to have market disrupting potential. What do you think?