A few months ago we had the opportunity to take on a project that would bring Rackspace Cloud Files together with SharePoint web sites. This would be in the form of a SharePoint 2013 app where you would have the ability to log into your Rackspace Cloud account and have access to your cloud storage. Since file collaboration and sharing is in high demand, we also wanted to give you the ability to share files stored in your cloud storage with other people — regardless of whether or not that person has access to the SharePoint site. This would be a step toward facilitating collaboration between SharePoint and non-SharePoint users.
Obviously, this was a project we were extremely excited about. Not only did we get an opportunity to dig into SharePoint 2013's new app model and take a real world use case to the marketplace, but we also got an opportunity to really dig into our Rackspace Cloud Files REST API. The app has been built as a SharePoint-Hosted app in the public market place. This means it is built upon all the latest and greatest web technologies such as HTML5, CSS3 and JavaScript.
The app can now be found in the Microsoft Office store where it can be downloaded for free. SharePoint Site Owners can install the app and start managing files in Cloud Files containers in a matter of minutes. You can add files to existing containers through an easy drag and drop interface; delete files either in bulk or one by one; and even generate a link that can be used to grant file access to non-SharePoint users for specific number of days.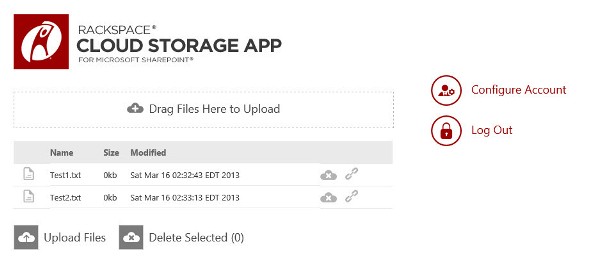 Building the app was a great project. As a team, we learned a lot of lessons and we can't wait to share those with you and the SharePoint community. We hope this app opens up a world of possibilities for you and other SharePoint users to take advantage of an inexpensive, secure storage option within the Rackspace Cloud as well as enable additional collaboration scenarios that might not have otherwise been possible.
For additional information, check out the following links: