If you are an Internet and music fan like I am, you've probably noticed the growing trend of bands streaming concerts live over the Internet. The music industry is realizing the impact of the Internet and how many more fans they can reach by expanding their concerts outside of the physical walls of a concert hall.
The Dave Matthews Band streamed their first live concert from New York's Beacon Theater on June 1st, Weezer streamed live from the Regency Ballroom in San Francisco on Oct 21st (which I found out about via a tweet from @laughingsquid), U2 streamed live from the Rose Bowl on Oct 25th and FooFighters streamed live from their studio Oct 30th. Yes, it may be a bit different than being at the actual concert but at least you're not missing out and can watch your favorite band live from the comfort of your own living room.
There's a lot that goes into planning a live concert over the Internet from the promotions to the actual musical production to hosting it live – flawlessly. You have to do it right the first time around. DC3 Music Group specializes in exclusive live concerts and behind-the-scenes content from multi-platinum artists to be distributed through multiple distribution channels, including the latest mobile and digital technology through their website, www.Rockpit.com.
On September 25th, the same day they launched Rockpit, DC3 Music Group produced Creed's Live Concert using Rackspace Cloud Servers to host the website and database, and Limelight Networks to stream the concert. They used a record breaking 237 cameras at the show and streamed it live on rockpit.com, watchcreedlive.com and 150 other online music portals. MSN aired the content on their homepage and AOL had homepage placement as well. To watch the concert, you had to log in, which was the database they spun up 12 Cloud Servers for.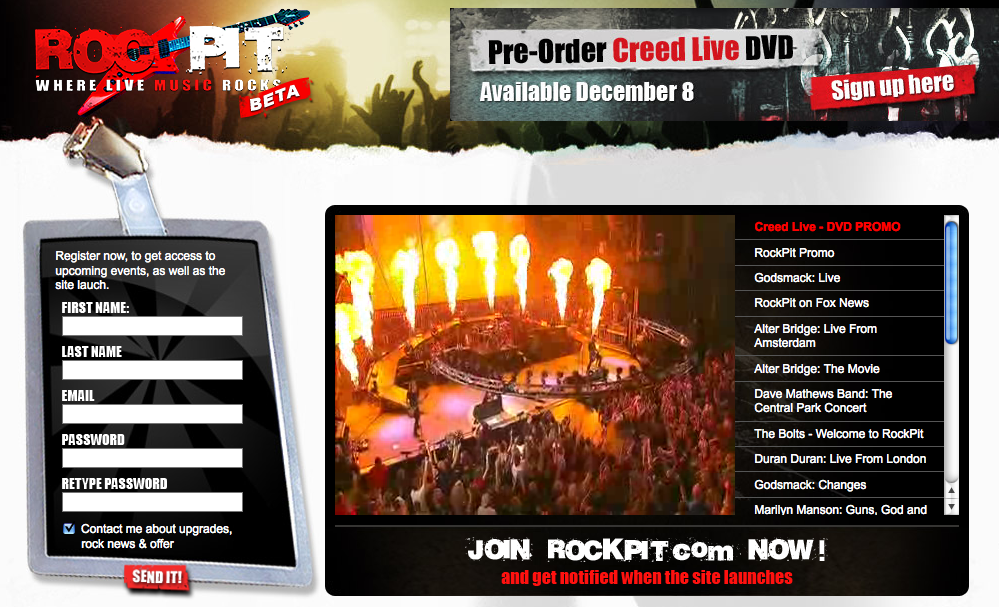 When we spoke with Brian Lisi, DC3 Music Group Managing Director, regarding their experience, he said:
"The support was amazing! It was incredibly important that we partner with the right people for this event. We had one shot to make this right. We decided to launch our company in a really huge way. We had not one hiccup! The Rackspace Cloud was able to manage the load perfectly. We don't have the exact numbers though the goal was 200,000 and we had at least 240,000."
Outstanding! They have also turned Creed's first live concert into DVD and it hit stores on December 8th. It's no wonder high profile artists in the music industry and companies in the technology industry are both knocking on DC3 Music Group's door.
Not new to the game, DC3 Music Group was formed by award-winning director and producer Daniel E. Catullo III (Nickelback, Godsmack, Black Eyed Peas, Smashing Pumpkins, Dave Matthews Band) and industry veterans Peter Bowers and Brian Lisi. They are also producing DVD projects with Alter Bridge, Godsmack, Chickenfoot, Mötley Crüe and more. They do everything from running the consumer based website Rockpit, serving as the producing company for the film and music business as well as syndicating the content.
Cloud computing is a perfect fit for streaming a live concert because you need hosting on demand, that can scale quickly and most importantly, perform well. You have one opportunity (a few hours) to reach millions of users and the last thing you want is to turn people away because the site is overloaded. Rock on!