Authored by Jeff Lamboy, Rackspace Startup Program. Contact him to learn more.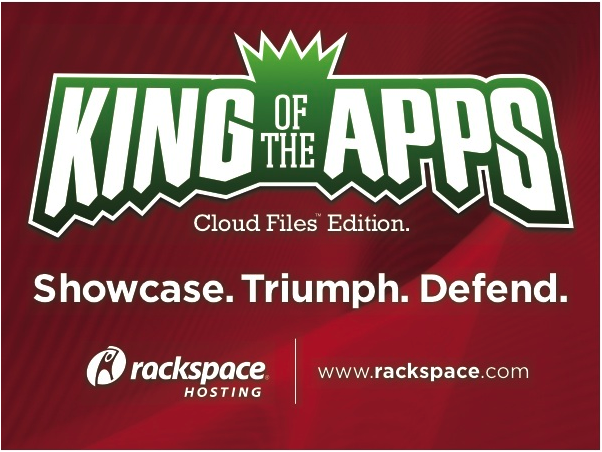 Well the Space Cowboys at the Rackspace Startup Program made it to Interop in Las Vegas for Round Two of the King of the Apps.  The May 10th showdown was the main event at the House of Blues at Mandalay Bay.  In this corner, the challenger, RareWire, was ready to take on the defending, Round One, SXSW champion, Snap Appointments.
The competition was fierce and so were the judges.
With Andy Schroepfer, Jay Cuthrell, Jonathan Bryce, Dan Woods, and Ted Nitka sitting ringside, the bell rang as emcee Jeff Wozer announced the main event.  With the talent of our techlebrities and techsperts, our judges had their own unique perspective on the canvas fisticuffs as the presenters demonstrated their best, all in the hopes to be named the King of the Apps.  iPad publishers and appointment makers rejoiced in the audience!  After questions, deliberation, and some candid audience participation, the votes were in.
SnapAppointments did it again!  Brock Holzer and Cody Harris wowed the audience and even shared a teaser for the next great video enhancement for SnapAppointments.  Everyone was elated and the noise from the crowd swelled.  What was that movement in the audience?  That stirring?  Dancing?  Yes there was dancing in the aisles took place as the crowning ceremony commenced!
Sure there is a $5,000 cash prize and yes who doesn't love $5,000 in cloud hosting credit, but the ultimate prize…being presented with the highly coveted and quite fashionable King of the Apps embroidered cape and crown.
Many thanks to the contestants, the judges, Rackspace's very own Haley Baskin and the guys at the House of Blues (Casey, Drew, and Phil)!  A good time was definitely had by all…as witnessed by those still dancing to the house DJ.  Did I say dancing and Rackspace in the same proximity, oh yes I did!
So be on the lookout and learn more by visiting the Rackspace Startup Program and King of the Apps often. Round Three is on the move, so the next showdown might just be at a location near you!  Stay tuned!
In the video: Andy Schroepfer, SnapAppointments, RareWire, and Jonathan Bryce