Hybrid cloud architectures sound complex. In this two-part blog series, we seek to eliminate some of the confusion by digging deeper into the common characteristics of hybrid cloud architectures. Over the course of this series, we'll define the hybrid cloud and highlight its five key architectural attributes to give you and your business a better understanding of why a hybrid cloud is the best fit for your workloads.
In the first installment, we talked about what the hybrid cloud is and highlighted the first two common characteristic of hybrid clouds: legacy application architectures and large-scale cloud consumption. In this second installment, we showcase the next three common characteristics of hybrid cloud architectures: performance optimization; security requirements; and corporate policy, compliance and SLAs.
3. Performance Optimization
Amid the many benefits of public cloud and virtualization there will always be the virtualization overhead of hypervisors orchestrating the timing and access from logical systems to the physical resources. In cloud application architectures consumers are forced to compensate for this by over provisioning resources, which becomes costly at scale. It makes sense for an intermittent resource requirement, but little sense if this is a continuous or near-continuous workload. In the case of extreme performance and modern hardware architectures, there are some incredible workloads that can be handled by a well designed physical server where an application can achieve 100 percent of that server's capabilities without penalty. In other cases, it simply makes better sense to have a private cloud deployment where virtualization is still present, but you have the flexibility to design your instance resource requirements to match the application's specific needs, be it high VCPU to small memory footprints or vice versa. In either case, there is still much to be said for the flexibility that customization affords an application with extreme performance requirements. Achieving the same levels of performance in any public cloud setting is at scale without having to over provision to compensate appropriately.
Blog: The Value of True Dedicated Computing
http://www.rackspace.com/blog/the-value-of-true-dedicated-computing/
4. Security Requirements
Security is always a hot topic with cloud, and any multi-tenant solution in general. Security should be considered at every layer of a cloud application, and while we believe pure cloud applications can be secure when handled with care, a hybrid cloud is often the answer people are looking for to address security concerns. When a multi-tenant solution is not acceptable to your business, due to the data you manage or the clientele you serve, you can abstract the sensitive portions of your workload into a dedicated hosted environment with whatever technology best suits your needs, for example bare metal, private OpenStack clouds or VMware. You can still use low latency connectivity into the public cloud from your dedicated environment for areas of your application or web properties that do not require security controls that are as stringent. In addition, in a hybrid cloud using Rackspace RackConnect, all of your ingress and egress traffic flows through your dedicated network environment, which makes it easy to use industry leading network-based security solutions like Imperva Web Application Firewalls or Alert Logic Intrusion Detection Systems and Web Security Modules. This architecture gives you the ability to segregate your most sensitive workloads onto your dedicated environment and also provides the ability to monitor traffic as it traverses your dedicated environment to your public cloud environment.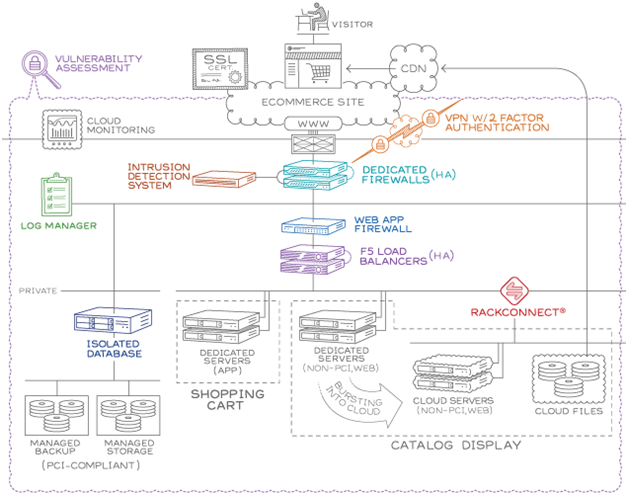 WhitePaper – Reference Architecture: Enterprise Security for the Cloud
http://c744563d32d0468a7cf1-2fe04d8054667ffada6c4002813eccf0.r76.cf1.rackcdn.com/downloads/pdfs/RefArchEntSecCloud1.pdf
5. Corporate Policy, Compliance And SLAs
Last but not least, especially for the largest of enterprises, cloud adoption is a long journey that involves more than developing new applications suited for the cloud. Internal policies and processes must evolve to support cloud adoption. While this may be the least desirable state of cloud computing to discuss, it's real, and a hybrid cloud architecture plays a major role in helping bridge the gap in cloud adoption for large enterprises that are thoughtfully (read: slowly) evolving their policies to permit such activity. The network layer is often one of the hardest layers in the infrastructure to adopt change amid an array of suitable and approved architectures driven by pre-established best practices and policies that require adherence to said best practices. In these cases we have seen many organization meet their needs by leveraging traditional dedicated network architectures coupled with highly available firewalls, load balancers and security appliances tied directly into public cloud resources, perhaps with no dedicated servers deployed at all. This traditional network architecture can satisfy the deployment requirements while still granting developers and operations teams the on-demand access to cloud resources as they desire.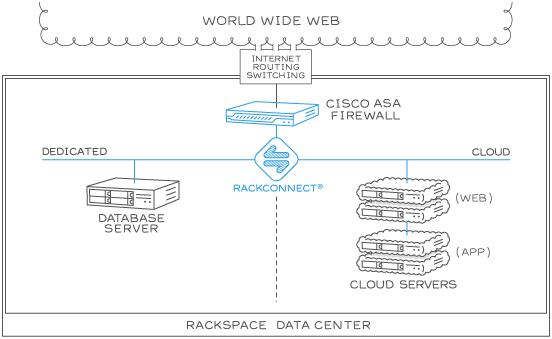 Hybrid With Rackspace RackConnect
One of the many ways Rackspace differentiates itself with hybrid cloud architectures is through the use of our proprietary technology known as RackConnect. RackConnect provides low latency intra-datacenter connectivity between your dedicated hosting infrastructure and Rackspace Public Cloud resources. In addition to connectivity, RackConnect leverages automation to help your workload scale. Many of the hybrid cloud solutions throughout the industry are hampered by speed of light limitations that make application architecture challenging, while RackConnect enables a single application to take advantage of traditional and cloud hosting technologies.
Resource: http://www.rackspace.com/cloud/hybrid/rackconnect/
Conclusion
Applications have varying requirements and no one technology may fit all those needs; from legacy application architecture, to large scale growth, high performance characteristics, data sensitivity and policy adherence. The best way to truly meet all these needs is through a hybrid cloud strategy. But don't just listen to us, our customers and trusted industry analyst agree:
"The flexibility of a hybrid offering with rich cloud services enables us to bring our product to market and innovate faster. The Rackspace infrastructure is an enabler, never a constraint." -Aaron Rankin, CTO and Co-Founder, Sprout Social

"Hybrid IT is the new IT and it is here to stay….Hybrid IT creates symmetry between internal and external IT services that will force an IT and business paradigm shift for years to come." -Chris Howard, Managing Vice President, Gartner

"Hybrid is the end-state. A lot of people say 'the end state is cloud' I don't buy that at all… It is about creating the right architecture to support the application and the evolution of the application over time." -James Staten, Vice President & Principal Analyst, Forrester
Rackspace is uniquely positioned as a leader in the hybrid cloud movement as evidenced in its track record as a pure hosting provider. With 15 years of managed hosting experience and as a founder of the largest open source cloud project, OpenStack, Rackspace's commitment has positioned it to be your trusted advisor during your journey to the hybrid cloud.