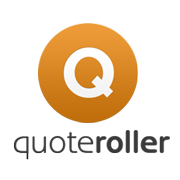 A part of what we do everyday is tied to the cloud. Whether it's uploading photos, sending email or updating your status on various social media channels. Using the cloud to run your everyday business activities is growing tremendously as well.
The Business Problem
To do business, you have to write proposals and sign contracts. It might require opening a Word or Excel document, filling in all the appropriate line items and faxing to your client. And if there is negotiation involved, you might have to update your documents two to three times before they are ever finalized. It can be time and resource intensive, taking you away from building a valuable relationship with your client.
The Solution
Rackspace customer, Quote Roller, simplifies this process for both the client and business rep. It's a cloud-based software as a service application that revolutionizes work on proposals, contracts and agreements. It allows you to create, send, organize and track paperless proposals and contracts with ease.
Quote Roller complements tools like Freshbooks and Basecamp helping business reps save time by improving bidding routine with paperless business proposals, easy-to-sign-online agreements and contracts. It is the only web 2.0 app that allows to:
– Quickly create proposals out of pre-saved templates
– Auto-insert products and services from your catalog
– Find out when the client opens your proposal
– Embed an electronic signature within the body of proposal
– Enable teamwork on proposals and agreements
Built on Rackspace Cloud Servers and Files
As a startup, Quote Roller didn't have the deep pockets to invest in building a dedicated server environment. They were able to start with a single Cloud Server instance that scaled as they grew their user base.
Quote Roller has been built using Django and uses Cloud Files to store backups. Mikita Mikado, Quote Roller co-founder, comments on their experience with Rackspace:
We found that Rackspace has a great infrastructure to support quickly growing Django applications. Our developers found that Rackspace cloud is much easier to work with, especially when it comes to configuration. Thanks to Rackspace we almost forgot about backup scripts and all kinds of third party systems.
They also plan to use Cloud Files for videos and other large files that clients might need to attach to their proposals.
Click below to see his video testimonial.