The busy holiday shopping season is only a month away and the National Retail Federation forecasts 12 percent growth in online sales over last year.  Sounds like good news, doesn't it?  It is, if you can keep your virtual doors open and sales flowing around the clock. Recently, Rackspace offered up five tips to prep your e-commerce site for the holiday crunch. We invited some of our e-commerce partners to provide a guest blog post looking at those tips and offering further advice.  
AmeriCommerce is an award winning full service e-commerce software provider and a Rackspace e-commerce partner. Here, AmeriCommerce IT Director David Blount discusses the importance of pre-planning with your hosting provider before the holiday season.
Online merchants often see their tech infrastructure as a "set it and forget it" part of their online business. This is especially true of merchants with hosted solutions like our e-commerce software running here at Rackspace.
For low volume, low traffic ecommerce sites, it is usually best to rely upon the infrastructure your SaaS solution is operating on and not stress on those details. However, for larger merchants that actively drive their online sales and create big traffic spikes, we recommend a close relationship with your e-commerce software and infrastructure team – especially during large promotion and marketing pushes during the holidays.
To illustrate how this looks, the following two situations show how our AmeriCommerce customers, along with us and our team at Rackspace, have used pre-planning and open lines of communication to support big sales initiatives during large traffic spikes.
3 Million Emails in 1 Week and Up to 10x Traffic Spike
One of our merchants is deeply rooted in the crafts niche market and has a large community around their many blogs in that space. These blogs have fostered a large and ever growing mailing list. This merchant sends email campaigns on a regular basis and due to their list size; they can create up to 10 times their normal traffic patterns.
In preparation, this merchant works with us well before the 3 million-plus email campaign begins. This ensures we have proper server resources in place to meet the demands of the promotion. In addition, we have worked with Rackspace to create a private cloud solution to be able to give the client additional resources by load balancing between their server and the VM server during these campaigns. By pre-planning we are able to incur huge traffic spikes without any performance or reliability hits resulting in a great promotion and high revenues.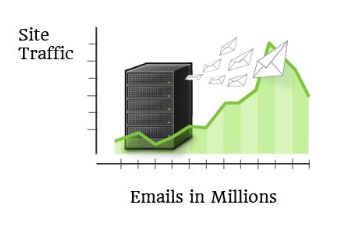 12,000 Coupon Codes Required for Promotion
In this instance, the merchant was gearing up for its first large promotion since establishing its store on our e-commerce software. This promotion included a bulk import of 12,000 coupon codes for specific customers to claim for a one-time purchase.
In preparation, this merchant sent us the 12,000 coupon codes and we ran it through our test environment and quickly found out there would be performance hits to the store cart processes. With the results of this test, we included the development team and optimized the source code that handled coupon codes. By pre-planning with us and testing before sending out these coupon codes we were able to set this campaign up for success.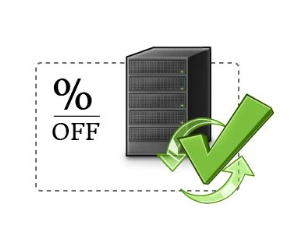 30 Percent Server Utilization and Continual Planning
Years ago, we moved our hosted ecommerce software to Rackspace. During this transition we outlined our objectives and needs, and set in motion an expectation of stability and performance. One key decision we made for the health of our infrastructure and to the benefit of our merchants was to keep our average resource utilization below 30 percent. This means ongoing upgrades of network appliances and continually expanding our environment in order to stay below 30 percent utilization.
In preparation for the holidays we review our year over year trends and maintain a watchful eye on all our systems, servers and KPIs. We ramp up quickly and don't hesitate to rely upon the wisdom of Rackspace staff. In this same way, our platform also continually improves and we are constantly planning and implementing new features to better equip our merchants and their online sales efforts.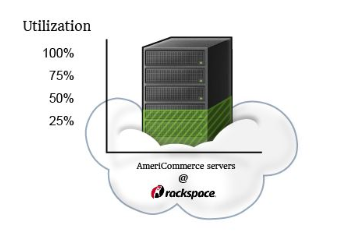 Here is a brief list of things you might spot check as you prepare for the holiday season.
Do you have the contact information and account information of your infrastructure team?
Are you finished with any major site initiatives (redesign, re-architecture, new product imports, new servers) and will they impact your holiday initiatives?
Have you corrected any past reliability or infrastructure issues to ensure success this holiday?
Have you planned for server resources and bandwidth needs?
Have you made any significant changes (new code, new servers or perhaps even new site features or third party integrations) since your last big push that may impact your holiday season?
For more on the upcoming holiday shopping season, check out this infographic showcasing the results of our National Online Survey of E-Retailers.