Analytics have become part of our everyday experience. If you have a Fitbit you can see analytics on your weight loss and step goals over weeks at a time. If you are a stock owner you likely get data analysis on your portfolio and their returns over a certain period. In business, if you happen to use Mailchimp to send out newsletters, you often see analytics on opens, click-throughs and more.
Although businesses understand that implementing analytics provides a competitive edge in today's data fueled world, some struggle with how to best store and then bring together data from multiple databases into one clean, easy to read dashboard.
Analytics is nothing new, but the ways to store and go about analyzing data have drastically changed. The cloud has ushered in a new era of highly scalable databases (such as Rackspace Cloud Databases) and real-time analytics (like Chartio), making understanding data from multiple databases, as well as conducting math on data from multiple databases a reality. Figuring out how to get going and start visualizing data is often overwhelming, so let us tell you a secret – using Rackspace cloud databases plus Chartio is as simple as a few clicks. Allow us to explain, by using ourselves as an example.
Chartio, a cloud business intelligence solution for developers and businesses, is hosted on Rackspace and then uses Rackspace Cloud Database for many of our data storage needs. Not only do we support it as a datasource; but we are customers as well. Being hosted on Rackspace makes spinning up a database as simple as a click of a button. And when we want to visualize the data, we walk through these simple steps to connect Rackspace Cloud Databases to Chartio.
Once connected, Chartio sits on top of the connected databases and data sources making it easy to see real-time data visualized. And then – voila! – you can turn Rackspace Cloud Databases data (alongside other databases) into a dashboard, like this one (click to enlarge):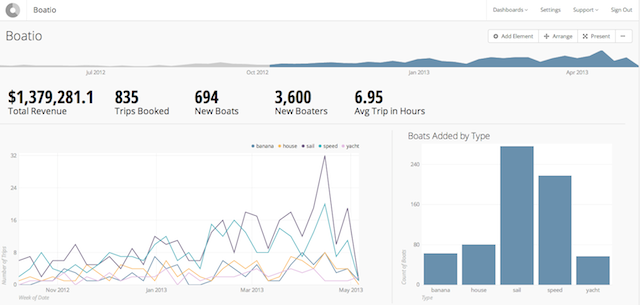 The data shown is of a fictitious company called Boatio (an AirBnB-type business, but for boats) and the data is a stored Rackspace Cloud Databases MySQL instance. This dashboard is live; you can play with the data so you can see just how easy it is to create a chart, add in other data sources and conduct complex data calculations on said data.
Data Blending and Formulas
For those of you with data in more than one location, Chartio makes it easier than ever to combine your sources. With traditional business intelligence solutions, you have to spend months thinking through every type of calculation you would ever need and design and build a proper data warehouse. After months of this time-consuming and painstaking data warehouse process you can then try to visualize data, but your data is never in real-time, so your analysis may not be as on-point.
With Chartio, however, you can combine data from multiple sources (including Rackspace Cloud Databases) after the fact. You don't need to worry about what data you're combining until you start making the chart.
In this video tutorial, we walk you through how you can use our data blending and formulas to perform these complex calculations on Rackspace Cloud Databases (the MySQL database in the video) and Google Analytics.
Creating Charts and Dashboards (part 3 of 3) from Chartio on Vimeo.
You can view some of our other tutorials here. Once you have added charts and graphs to your dashboard, you can create different dashboards for different teams and add various team members to each dashboard. Chartio also allows you to log on from any browser (mobile included) to see, query and visualize data. And if you prefer to send out PDF reports to various teams we have that capability as well.
According to Markets and Markets, the cloud analytics market is set to grow to $16 billion by 2018, so this market is just getting started. As I highlighted in a blog post about my data predictions for 2014, companies will move from storing data to understanding data this year, and the best possible way to get a head start on this is by following the three simple steps to connect Rackspace Cloud Databases to Chartio and start gaining insights into your data in seconds.
Chartio is a Rackspace Cloud Tools partner and a Rackspace customer. At Strata, Chartio will present in the Rackspace booth (12:30 p.m. Wednesday, February 12) to show how easy it is to connect to Rackspace cloud databases and begin visualizing data. Sign up for Chartio today and start visualizing data in seconds.