Rackspace Cloud Customer, Ecycler, publicly launches today at the 2009 TechCrunch50 DemoPit. I am at TechCrunch50 this week and had the opportunity to speak with Timothy Laurent and Craig Robertson, founders of Ecycler, to get a better understanding on what Ecycler is all about.
Ecycler is connecting those that have recyclables to give away with those that want to collect recyclables. Although many US households are offered curbside recycling, a large percentage still do not have that option. Ecycler is giving them that option, adding Web 2.0 concepts to the recycling world.
How does the transaction work?
They have monetized this concept by imposing a micro fee on the collector for each pickup from a discarder. The collectors – or entrepreneurs – will make either 100% or 60% of the value of the recyclables depending on if the discarder wants a payment in exchange for those recyclables. The discarder has the ability to track his recycling in terms of the number of units and their combined carbon offsets.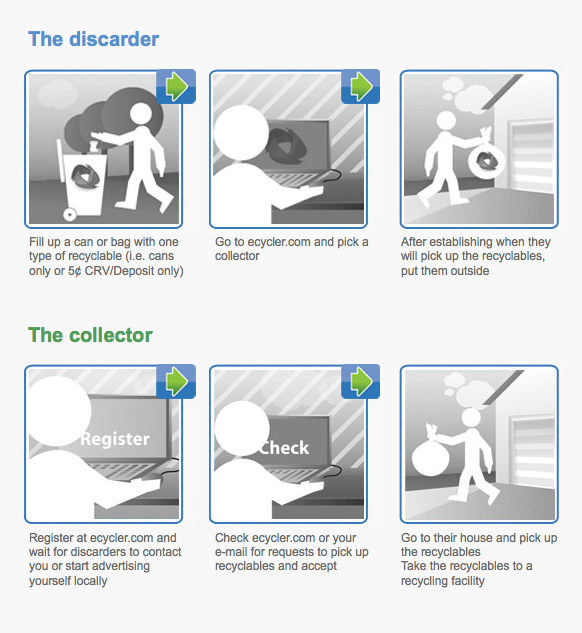 Maybe you do receive curbside recycling but maybe they don't pick up every possible recyclable item. For example, I receive curbside recycling in my neighborhood but I am unable to recycle items such as metal hangers. What to do with all these hangers? List them on Ecycler.com. Connecting with people all across the US allows you a large window of opportunity to find a home for your recyclables that you initially would have thrown away or allowed them to collect as junk in your garage because you don't have the time to take them somewhere. Further, it allows collectors an additional stream of income giving them an opportunity to make a business out of recyclables.
I asked Craig how they came up with this concept and he quotes:
"I have always been interested in recycling; I even bought my first computer by collecting recycled cans."
Craig and Tim are also founders of FortuneKookie.com, hosted on The Rackspace Cloud. When they developed Ecycler, it was a no-brainer that they would launch their new site on The Rackspace Cloud.
"It's so easy to get set up. We did look at Amazon's cloud computing offering and we found it to be difficult to get set up. We really want to focus on our business and not have to worry about back-end system configuration. This is why Cloud Sites at The Rackspace Cloud works best for us."
Have recyclables that you don't know what to do with? Sign up on Ecycler.com and make sure to give them your feedback.