In this blog series, we walk you through some of the dos and don'ts of email for ecommerce. Last week, we talked about managing your reputation. This week we dig into transactional email like order confirmations and shipping updates.
First, what is transactional email? In the world of ecommerce, it could mean anything from shipping and order confirmations to password reminders to follow-up emails to abandoned shopping cart notifications. Transactional emails are emails that are generated as a result of a specific user action, as opposed to something like a monthly newsletter. They also tend to be highly personalized.
Transactional email is a way for online stores to keep their customers up to speed with what's going on. In ecommerce, the success of transactional email is speed. The difference of minutes, or even seconds, could result in lost customers. Think about it – what good is a password reset email that doesn't immediately hit the customer's inbox? They'll be buying somewhere else if they can't login to your site NOW!
Transactional emails are often emails that customers essentially ask for. They expect them. They completed some sort of transaction and expect a rapid response. This means that they typically generate fewer spam complaints and can generally be delivered faster.
One problem, however, is that many ecommerce sites are always sending marketing emails (think merchandising and other promotional emails) at the same time as their transactional emails. Because the transactional emails are usually a small percentage of the total email volume being delivered, transactional emails can be filtered by Email Service Providers (ESPs) that see a large influx of marketing emails. Alternatively, even if you follow best-practices for sending marketing communications and don't get filtered by ESPs, a single transactional email caught behind 100,000 marketing emails can lead to very slow delivery.
In order to protect your transactional email, it's wise to consider setting up separate sending domains. For example, one domain (mystore.com) could be used specifically for transactional emails, while another (mystoremail.com) could be used for marketing communications. It's also a good idea that you set up separate sending queues for each domain so that your transactional emails don't get stuck behind a large mass marketing campaign.
It's also worthwhile to consider using a call to action (CTA) in transactional emails. ESPs love to see your users engaging with content. This tells them that people want to receive your emails. It could be as simple as pointing customers to a blog post to read more or compare prices of certain products. The key here is that a CTA should consist of more than a hyperlinked "click here." The email reader should get something out of it as well.
Here is a great example from eBay. This user was happy to see that their Legos had shipped, and eBay provided links to explore related products. This email could have been a missed opportunity, but eBay used data about the buyer to deliver a relevant transactional email that increased engagement.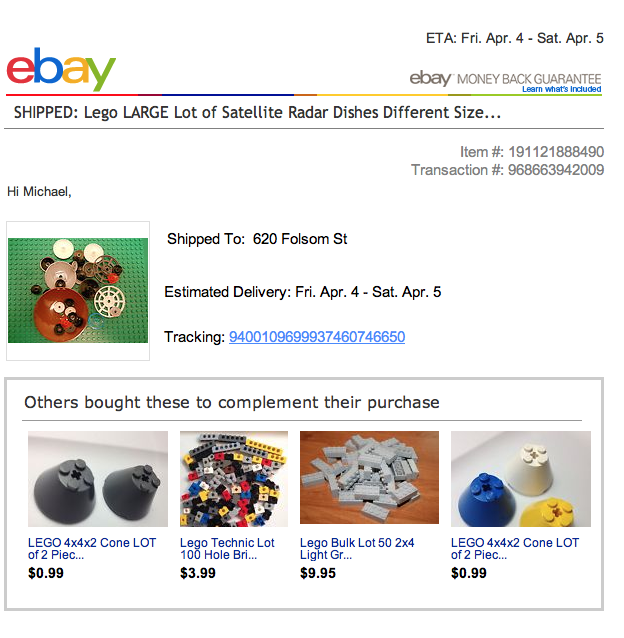 The last rule of thumb of sending great transactional emails is to never send transactional emails from a "no reply" address (e.g. no-reply@mystore.com). There are several reasons to avoid this, but the main ones are: it's rude and it leaves the customer with no way to respond if they have questions or concerns. As an ecommerce business, you can use filters to make sure replies are forwarded to the right team to follow up.
Thank you for reading. Be sure to come back next week when we look into marketing email.