With so many new apps launching these days, it's a pain to sort through them all and discover new cool apps for your device, especially if you have an Android. This week's Must Have App, Rex (by Mapsaurus), helps to discover new apps through recommendations based on the apps you already use and love.
Rex is the easiest way to discover new apps and games.
More Apps Please!
Every week, Rex recommends new apps based on previous behavior. Instead of spamming you with dozens of mediocre recommendations, Rex generates precise, personalized suggestions.
Rex is different than other recommendation engines, because of its interactive web of related apps. This feature lets the user explore apps by following connections between related apps. This means that even if a recommendation isn't perfect, you can still explore the surrounding apps and discover something perfect or something totally unexpected.
The Rex Story

Rex is part of the TigerLabs University accelerator and the Rackspace Startup Program. Published in 2012 on Google Play, the app took off after it was posted on Reddit. Within a couple of weeks, Rex had almost 20,000 installs and was named "Beste Newcomer-App" by Android Magazine earlier this year.
How Does It Work?
From the moment you open Rex, you're presented with personalized recommendations. There's no need to fill out a survey, rate your favorite apps or login. You can then explore the apps surrounding recommendations, apps similar to your own current apps, browse collections of related apps and more.
A dozen servers constantly update the mega database of apps, making sure it's as up-to-date and complete as possible. Then, another server analyzes that data and processes it so it's useable by our recommendation algorithms.
The Android app also communicates with a few web servers via an internal API. These web servers generate almost everything you see in the app on the fly (unless it's pre-cached, of course).
Technically, the Rex stack consists of Linux servers on Rackspace, MongoDB, Redis, Celery, Flask and, of course, Android.  The code is in Java and Python, and developers used Bash scripts and Cron jobs to keep everything patched together and running smoothly.
"Most of our data resides in MongoDB while some data about relationships between apps resides in Redis (sometimes we have to breadth-first-search). We chose these technologies for speed and ease of use,"  said Co-Founder Kenrick Rilee.
"On the front-end, we use lots of open-source libraries, and a few months ago, we launched our own open-source project, which makes it easy to build flexible phone/tablet apps," according to Rilee.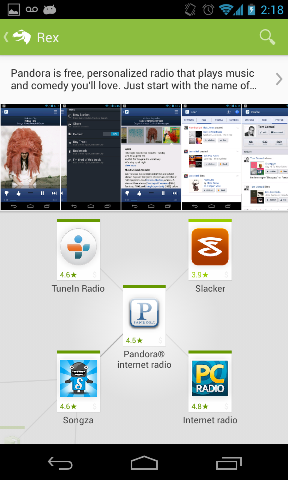 Try It Out
Rex is the easiest way to discover new Android apps relevant to you. It provides precise, personalized app recommendations and lets you explore a visual web of related apps.
"We want to help users discover new apps and developers reach the right users," said Rilee.
To start discovering great apps just for you head over to Google Play or the Mapsaurus website to explore Rex.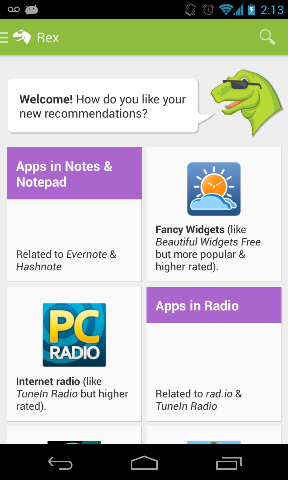 Check back each week as we highlight a new Must Have App. If you missed last week, take a look at our previous Must Have App: How About We
If you're a startup running on Rackspace and would like to be part of this series, let us know and we'll set up a time to talk and learn more about your awesome app.