Launched over the weekend, App of the Day was featured on TechCrunch, The Washington Post and LifeHacker for it's simple set up and highly needed platform in the iPhone App world.
The iPhone API has allowed developers to get creative and develop apps that fulfill all sorts of needs, which gives you tens of thousands of apps to choose from. I just did a search on my iPhone for "WorkOut" and received a selection of over 100 apps. So how do I know which one is best? This is where App of the Day can help.
App of the Day highlights a different application every day for iPhone or iPod Touch users looking to discover high quality applications in the App Store. Founded by Jordan Satok, App of the Day features community-nominated applications that get featured on the home page each day. Users are then able to comment on the application, and provide feedback for potential buyers.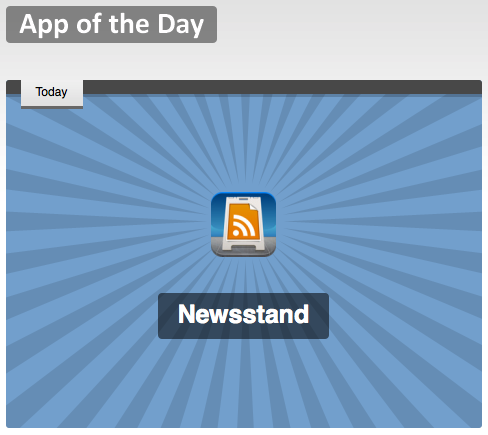 You only get one nomination per day, reinforcing the goal of the site to only feature quality applications. The application that receives the most nominations becomes the App of the Day. Today's App of the Day: Newstand.
The concept is quite simple which is why I think it's attractive. Just like our other client, MacBlogz, App of the Day is bringing useful content to the readers. There's a lot to choose from and App of the Day makes it easier for you to see quality applications useful to you.
I had the opportunity to catch up with Jordan. Based out of Toronto, Jordan is "an entrepreneur who focuses on web startups primarily in the software field. He built jordansatok.com at the age of 9, was blogging by the age of 11, and was podcasting at 12. Today, at 15, Jordan is involved in over 10 different startups." Jordan built the App of the Day site in less then 10 days and it is hosted on the Rackspace Cloud.
When I asked him about why he chose cloud computing and specifically The Rackspace Cloud, he quotes:
The Rackspace Cloud made it easy for me to launch my site, App of the Day, with minimal server configuration required. I scaled from a 256mb Cloud Server to a 2gb Cloud Server for the launch, and at no time had any concerns relating to the server. App of the Day was solid through three major articles, TechCrunch, Washington Post and Lifehacker. I highly recommend the Rackspace Cloud, and wouldn't consider any other hosting platform for my future sites.
At just 15 years old, Jordan has already accomplished  so much and he definitely has a bright future ahead of him. We are flattered he chose The Rackspace Cloud.
Please provide Jordan with feedback on App of the Day at http://rypple.com/appoftheday/improve. Click here to see what feedback Jordan has already received and what his next steps are.
Follow Jordan on Twitter: http://twitter.com/jordansatok