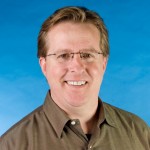 I joined Rackspace a couple of months ago, and I've been waiting for this opportunity to introduce myself and speak a little bit about our future path here at the Rackspace Cloud . . .
I have been asked to lead our Product & Development efforts for our Cloud services. Previously I led the global Product teams for Yahoo! Finance, Sports, News, and Entertainment properties that cumulatively have more than 250MM users worldwide. I am passionate about technology and have spent the past 20+ years focusing my efforts on helping companies build and develop world-class products and services. I can't tell you how excited I am to come to Rackspace and help develop the future of Cloud.
Since joining Rackspace, I have spent a lot of time listening to our customers. Many of you love our services; many also have ideas and requests to help take our services to the next level. I want you to know we are listening! For example, we are actively working to improve cloud control panel responsiveness, how elastic our services are, and, over the course of the next two quarters, we will be upgrading our CDN offering within our Cloud Files product line and delivering features such as SSL, HTTP Compression, Edge Purge, Streaming and most importantly CNAME. We have listened to our customers and we are excited to deliver on these long-standing feature requests.
We are taking our efforts to the next level and are putting together some big plans for the future. We realize that the Cloud Computing market, and more specifically the competition we face, is not going to be slowing down its effort to try and win the battle for your business. In addition, I believe ultimately the market will be made up of five computers that power everything we do; this is essentially the vision I have for Cloud Computing and I want Rackspace to be one of those computers! In another post I'll explain more about what I mean behind that philosophy. We are working on some big investments for the future that we believe will ultimately help you and your business take advantage of the promises being made around Cloud Computing that are talked about in the media every day.
If you have been following our blog over the past few months, you have already seen some of the developments start to come to reality, and it's just the beginning.  We've introduced new services like Cloud Servers for Windows, Cloud Connect, Load Balancing as a Service, Bulk Import for Cloud Files, a new plug-in for .NET and Visual Studios developers and of course we decided to open source our Cloud with the announcement of OpenStack. While we are proud of these accomplishments, we realize there is still much work to be done.
We've heard your feedback and have worked to create new ways for you to offer feedback, with tools like our Product Feedback tool. We know you are asking for a better solution for backing up Cloud Servers, CNAME support for Cloud Files, a faster more responsive Control Panel, and much more. I want you to know that these are all things we are actively working on at this time and there is a lot more on top of that.
In addition I am making some changes inside of our organization to better align us with the future vision I see for Cloud Computing.
Design Thinking First
We are going to put the user experience and design at the top of our agenda when we look to develop and update our products. We want you to have an amazing experience every time you use our products and services.
Loosely Coupled Innovation Teams
We are going to re-engineer the way our teams are structured today, so we can capitalize on ideas quickly and scale our product and development organization around the world.
New Talent, New Functions
We are going to be hiring like crazy—top talent for all sorts of different functions. Want to help shape the future of Cloud Computing? Come apply, we'd love to chat with you.
Over the next few months, you are going to start to see a much more heavy investment from Rackspace in delivering new services and tools. That's my promise to you.
I hope you are as excited as I am about what the future holds. It's going to be a fun ride!