Making the transition to DevOps practices requires more than just a flip of a switch. It takes stakeholder buy-in and often requires cultural and business practice transformations that impact the entire organization. DevOps isn't a product; it's a methodology, and adoption takes preparation and planning. Many companies are eager to get started with DevOps, but are looking for guidance on how and where to begin.
When we launched the Rackspace DevOps Automation Service six months ago, a number of next-gen, forward looking companies such as AppBoy, Ranker, WePay and more leveraged the service to deploy new features more often and more consistently. We helped automate their application environments by treating their infrastructure like code and layering ongoing application performance monitoring on top of it. These cutting-edge companies were already on the path to DevOps transformation and they wanted to focus on building new features for their customers rather than building infrastructure automation skills in-house. With DevOps Automation Service, we provide the infrastructure automation skills to these companies, so they don't have to worry about it.
There are organizations, however, that are still early in their DevOps adoption model. They recognize the benefits of DevOps, but adopting a DevOps methodology presents a number of new and unique challenges, including how to evolve the structure of their team and their culture; what tools to use; how to acquire the skills; and what best practices to adopt. These companies need additional advice and training to identify and understand opportunities, skills gaps and tools before they can undergo a DevOps transformation. Our new DevOps Advisory Service is designed to help organizations start their DevOps journey.
What is DevOps Advisory Service?
Rackspace DevOps Advisory Service is a one-time service where Rackspace DevOps specialists advise you on how to adopt a DevOps model and be more agile with infrastructure. These are the same specialists who you find speaking at industry-leading DevOps events, publishing whitepapers and hosting DevOps webinars. They have a wealth of DevOps expertise.
How can we help?
There are three distinct types of DevOps Advisory Services, all of which give you access to our DevOps specialists to plot your adoption of a DevOps model. They are:
DevOps Enablement Workshops: These face-to-face workshops are for people who need help understanding the basics of DevOps. These workshops cover DevOps culture, automation, measurement and sharing (CAMS) principles, benefits and tools behind a successful DevOps culture.
DevOps Strategy Planning: These sessions are for people who want to build a DevOps roadmap for their organizations. We work with you to understand your requirements and create a custom roadmap document that meets your needs and timelines.
DevOps Professional Services: These one-time engagements are for people who want to automate their infrastructure using their internal resources but need some initial help getting started. These engagements can range from helping you with your existing configuration management implementation to creating auto-scalable development environments to advising you on integrating public cloud and OpenStack resources into your application.
How is DevOps Advisory Service different from DevOps Automation Service?
One-Time Engagement vs. On-Going 365x24x7 Support: Like most advisory services, DevOps Advisory Service is a one-time engagement during which we will help you accelerate your DevOps transformation. DevOps Automation Service, on the other hand, is an ongoing 365x24x7 infrastructure automation and management support service.
We Advise vs. We Do: With DevOps Advisory Service we

advise

you on how to automate your infrastructure. With DevOps Automation Service we actually automate your infrastructure for you.
Which service should I choose?
You can choose DevOps Advisory Service as your first step toward DevOps Automation Service or toward building infrastructure automation skills in-house. This chart will help you choose the right service based on your business needs: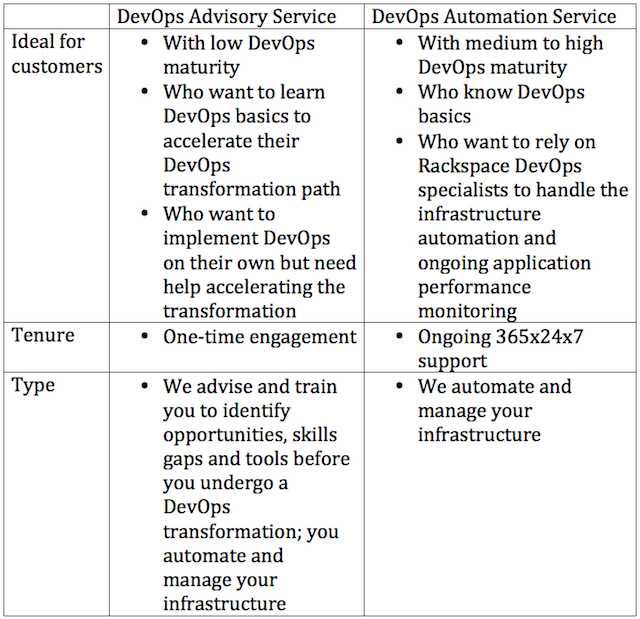 For more information on Rackspace DevOps Advisory Service, click here.