You can now use Mailgun, the email automation engine we acquired in August, directly within the Cloud Control Panel. That's right. It's no fuss, no muss. There's no separate account to sign up for or manage, and all Rackspace Cloud customers receive 50,000 emails per month absolutely free. If you want to send more than that, just add your credit card in the Mailgun control panel and start sending – it's simple. And if you have questions about Mailgun, contact your regular Rackspace support team. If we can't help you, we'll escalate to the Mailgun team for you, so you don't have to worry about keeping track of two different support teams.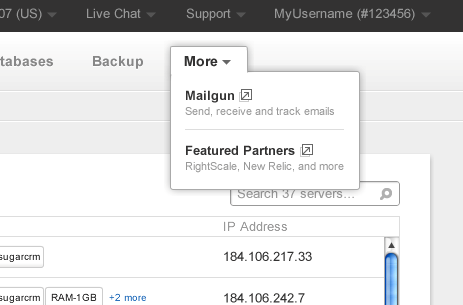 Cool, huh? Let's dig a little deeper into what this means for you, and answer some questions you may have:
Wait, what!? I don't even know what Mailgun is. What is it?
Oh, let's back up then. Mailgun is a set of APIs to send, receive and track emails. All apps and websites use email in some way; whether for welcome emails, shipping confirmations or marketing. And we all get them. Mailgun lets developers integrate email deeply into their applications without having to worry about managing email servers themselves. Mailgun also automatically manages the email delivery process, dramatically increasing the chances that your email pops up in the recipient's inbox. Mailgun has grown rapidly since we acquired it, and it now sends more than 350 million emails a month!
Do other Rackspace customers already use Mailgun?
A number of you have already built Mailgun email into your apps. Integration is often as easy changing a single line of code and – PRESTO! – headaches around managing email vanish. But don't take it from me; listen to one of our customers. At the beginning of the year, DealTicker, a Rackspace customer that operates one of Canada's largest performance marketing sites, had been looking to improve its ability to scale email sending. DealTicker moved to Mailgun and now delivers in excess of 30 million emails per month. Here's what DealTicker President Daniel Abramov had to say:
"As a customer of Rackspace, we have gotten used to unparalleled service experience, and dealing with Mailgun was no different. The flawless execution and service delivery is due to the dedication, support and hard work that the entire Mailgun team has demonstrated to DealTicker throughout our migration and integration process. We have transitioned from one of the largest full-service email marketing firms over to Mailgun and have seen unsurpassed inbox deliverability and service excellence."
Do I have to send tens of millions of emails to use Mailgun?
Heck no! Not all Mailgun customers send as many emails as DealTicker, but that doesn't make the emails they send any less important to their businesses. Mailgun helps developers of all kinds of apps deliver mail to the inbox – PagerDuty is one example. PagerDuty is an app that alerts on-call engineers when there is a problem with their app (if you use Rackspace Cloud Monitoring, you SHOULD also use PagerDuty for alerts, it's awesome). Here's what PagerDuty CEO and Co-Founder Alex Solomon had to say:
"We rely on email to notify our customers when their mission-critical applications are down. Reliable, on-time delivery was the biggest requirement for us when choosing an email provider, and we couldn't be happier with Mailgun. Their team is there when we need them, and emails are always delivered quickly."
Thanks Alex. We'll buy you a beer next time you're in San Antonio.
I won't take any more of your time. Now that Mailgun is integrated into the Cloud Control Panel, you can use it now. Go for it. It's fun and it's easy. Happy emailing!
If you have any questions about Mailgun, just ask your Rackspace account team or start a live chat on the Mailgun website.