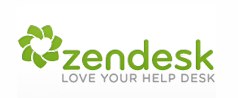 This post was written and contributed by Helen Yu, Director of Product Marketing at Zendesk, a Rackspace Cloud Tools Partner.
Zendesk is a leading provider of web-based help desk software with elegant support ticket system and a self-service customer support platform. Built upon the idea that customer support software doesn't have to be costly and complicated and should be focused on the customer experience, Zendesk lets companies offer high-quality support for both internal and external customers at minimal expense. Zendesk is easy to customize, integrate, and use so companies can quickly start offering better customer service.
Rackspace Cloud Delivers Customer Support Using Zendesk
Blake Yeager, Product Manager at Rackspace, explains the importance of being recognized as a provider of outstanding customer support — "When we launched our cloud hosting offering, we wanted to keep this distinction from other vendors by delivering a higher level of support."
Rackspace Cloud's support staff initially handled customer issues via phone, online chat, and email. The original ticketing system provided limited visibility into open cases. Rackspace aimed for a higher level of customer service in its cloud hosting offering.
"Our customers were already very happy with our overall level of service," says Yeager. "We wanted to take it one step further and give them an interface where they could track their own tickets online, so we began to look for a provider of such solution."
After researching various ticketing system options, Yeager confirmed that Zendesk would allow Rackspace Cloud customers to create their own support tickets online and track them in real-time, rather than exchanging emails with the support team.
"Zendesk makes a world of difference," says Damian Green, Product Operations Engineer, Rackspace. "It lets our cloud customers see the current status of their tickets, which increases their overall confidence in us. It also feeds us performance reports on how promptly we're responding to their support needs."
By offering its customers an additional means of interaction, Rackspace has solidified its customer service in improving its customer interaction without devoting more resources. Some customers use Zendesk as their primary means of communication with The Rackspace Cloud support team.
Attend Webinar To Learn More & Try Zendesk FREE
Join Tim Sturge, director of infrastructure and operations at Zendesk and Roxana Siu, product marketing manager at Zendesk, for a webinar. You'll get an introduction to getting started with Zendesk and learn how to leverage Zendesk to engage and grow your customer community.
We are extending a very special offer for Rackspace customers! Try Zendesk for free and get 25% off your first 3 months. For more details, visit www.zendesk.com/rackspace