Halloween brings a 300% Web Traffic Increase for Costumes4Less.com
Filed in by Angela Bartels | October 27, 2009 9:26 am
It's that time of the year again – jack o lanterns, haunted houses and gooey candy.  It's Halloween! And what's the most important part of Halloween?
[1]Costumes of course. It's the only time of the year when you get to put your favorite Star Wars[2] or Star Trek outfit on…well, maybe not the only time of the year.
If you do a search for "Halloween Costumes[3]" right now, Costumes4less.com[4] will show up on your first search engine page. Costumes4less, a long time Rackspace Cloud customer, is a leading online retailer for costumes offering the largest variety at very competitive prices. They're able to offer low prices by keeping operating costs low such as not having physical retail stores, not spending wasteful money on marketing/advertising expenses or expensive print catalogs and utilizing cloud computing[5] for their hosting infrastructure. And they have very loyal customers.
Although costumes are purchased throughout the year for various occasions, Halloween is unarguably the busiest time for costume retailers. Since traffic spikes up only once a year, Costumes4less needed the option to scale accordingly and not have to set up an expensive dedicated server environment that was only needed for such a short time frame.
When I asked Niranjan (Nick) Pardasani, CEO of Costumes4Less, on why he chose the Rackspace Cloud, he quotes:
We were in shared hosting environment which was OK for all year except the most important time of the year – Halloween season. Shared hosting environment could not deliver the performance during our peak season. We did not want the costs and hassles associated with a dedicated server solution. The scalability claim of The Rackspace Cloud was the main selling feature for us.
On a busy day, Costumes4less receives 54,000 visitors, 479,000 page views and an average time on site of 4.25 minutes.
I checked their Alexa traffic statistics[6] to get a gauge of the percentage increase in traffic: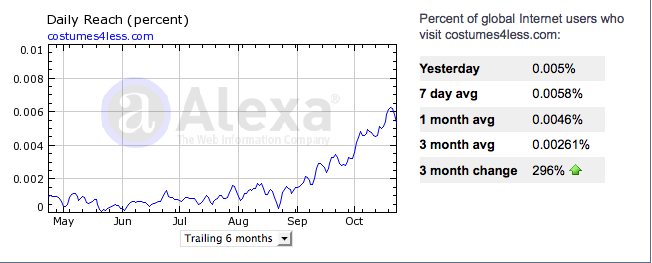 Endnotes:
[Image]: http://www.costumes4less.com/Star-Trek-Classic-Dress_RU889061_Prod.aspx
Star Wars: http://www.starwars.com/
Halloween Costumes: http://www.costumes4less.com/
Costumes4less.com: http://www.costumes4less.com/
cloud computing: http://www.rackspacecloud.com/what_is_cloud_computing
Alexa traffic statistics: http://www.alexa.com/siteinfo/costumes4less.com
Source URL: https://blog.rackspace.com/halloween-brings-a-300-web-traffic-increase-for-costumes4lesscom/
---