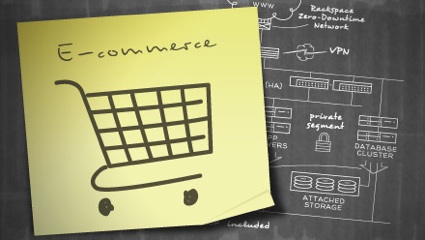 The holidays are quickly approaching and it's a crucial time to ensure your e-commerce site is ready for the busyness of the season. We all know the benefit of having an online store is having your doors always open, allowing you to bring in sales all day and night. And we all also know that any downtime could result in a significant loss of revenue for your business.
There are a lot of things to consider when building and/or maintaining your e-commerce site to ensure you provide the best user experience possible, never allowing your doors to close. Downtime could occur with simply not having an e-commerce strategy in place. Gregg Stout, Certified Information Systems Security Professional and 10 year Racker, has a written a series of e-commerce articles to help you develop a sound e-commerce strategy:
Where do I start?
Businesses, small and large, have to consider all the demands of their stakeholders when building and managing their e-commerce strategy from the demands of privacy and security from consumers to the demands from the business to maximize on revenue with greatest return on investment. There's a lot to consider. Click here to read more.
The Inventory
When building an e-commerce site, one of the first and most important steps is understanding all the components involved to make the site work, called your inventory. Going through this process allows you to see what you have in place and what you might not. Taking an inventory can aid in identifying components to help you reach your goals detailed in your e-commerce strategy. Click here to read more.
Critical Risk Factors
In this article, Gregg identifies the various risks commonly associated with an e-commerce environment such as availability, performance, scalability and security when building a risk mitigation strategy. Businesses rank risks differently and that's why your strategy should be based on your business's goals for their e-commerce platform. Click here to read more.
PCI Compliance
Having a sound web hosting solution that can support the critical nature of your e-commerce solution is equally as important as achieving compliance with PCI DDS. It's a continuous process of performing assessments, remediation efforts, and reporting the results. Click here to read more.
If you're looking to build an e-commerce site, Rackspace can help you build a hosting solution that fits your requirements—starting with the infrastructure configuration and surrounding it with the right services and support resources. Click here to take a look at sample configurations for e-commerce.