When a team knows how to collaborate well, it's no accident. The chemistry needed for effective teamwork can be months, or even years, in the making. And that's for people who work in the same office every day.
With team members scattered across various locations, collaboration is even more complicated. Now that anywhere access and remote policies are standards, the mobile workforce is growing. Yet just because connectivity is a given, that doesn't mean collaboration is too. If your mobile and in-house teams are finding teamwork to be an uphill climb, the first step in making an improvement will require looking at how everyone collaborates and knowing the difficulties they face keeping in touch.
The Challenges of the Mobile Workforce
Whether it's between two people or a dozen, good collaboration depends on effective communication, goal setting and on-the-fly problem solving. These factors come with challenges that mobility presents. Take a look at these challenges to determine if your organization is prepared to overcome them:
The right toolset: A core set of tools is mandatory for employees to be able to communicate, participate in meetings and store documents. Unless a uniform toolkit has been adopted, collaboration will be difficult.
Mobile policies: A dispersed team needs to know what's expected of them. Any mobile policies should be specific to a company's business goals and also align with the way your teams work. The below infographic highlights the frequency of remote work activity and the importance of crafting a mobile policy.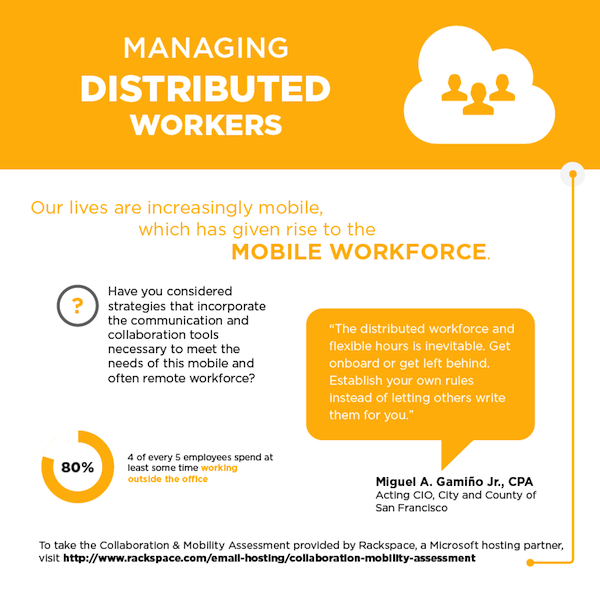 Accessibility: Being able to manage and store files remotely is playing a big role in the increase of the mobile workforce, yet speed and reliability are the wild cards. Access to the latest information should be available to everyone regardless of where they're located. To adapt to the latest forms of collaboration, a company's infrastructure can attain new efficiencies for both in-house and mobile employees by moving to the cloud.
BYOD: More and more people are using their personal laptops and handheld devices at work, rather than company-issued gear. It's a cost saver for companies, but it also requires new approaches to security and data storage.
The growing trend: The International Data Corporation estimates that in 2015 over a third of the world's workforce will consist of mobile workers. Any organization that isn't ready for this trend faces being outpaced by its competitors and even the prospect of losing new hires who prefer to work at a more mobile-friendly company.
Teamwork Without Boundaries
Improving collaboration depends on figuring out what your mobile workforce is doing well and what needs to be revamped. For a quick and complete examination of your company's collaboration strategies, the Rackspace-sponsored Collaboration & Mobility Assessment can evaluate your company's mobile strategy. By working through this interactive piece, your company will gain a clear idea of how to improve its mobile teamwork. The assessment also includes recommendations from industry leaders on tips to help employees work together.
Once you pinpoint the challenges and have a plan for making some improvements, you can start devising a people-first approach to collaboration that isn't hindered by distance. By looking at your technology and how your teams work, you can improve your collaborative efforts and reach greater levels of productivity and performance.