EDITOR'S NOTE 01.28.14:This week, Robert Malnati of Cedexis will join our Rackspace Google+ Hangout to discuss this post and how to improve user experience. Please join us at 1 p.m. CST on Thursday, January 30: https://plus.google.com/events/ci6jnjin8gbcsf0l1v51qpd72fk
This is a guest post written and contributed by Robert Malnati, Vice President of Marketing at Cedexis, a Rackspace Cloud Tools partner. Cedexis provides latency-based global load balancing to improve application availability and end user website and mobile app experiences.
The data tells the story – if you are looking to improve the availability and latency of your digital end user website or mobile application experience, deploying your application in multiple Rackspace Cloud locations can provide significant performance benefits.
Cedexis Radar is a crowd-sourced community of enterprises that benchmarks the performance of over 50 public cloud regions and providers around the world. Radar is unique in that it reports cloud provider performance from hundreds of millions of real end users each day. These Real User Measurements (RUM) provide visibility into the impact of ISP/cloud provider peering, congestion and the myriad device/browser/client interactions of the general public that interact with your website or mobile apps. Also unique to Radar is that each enterprise that joins the Radar community can compare the performance measurements of their end users with the aggregate measurements of the greater Radar community – valuable insight indeed!
So let's look as some data we collected for an actual Rackspace customer. This customer was thinking of migrating its websites from a pair of private data centers; one in the US and one in Europe, to two comparable Rackspace Cloud locations; London and Chicago. The customer deployed the Radar JavaScript on its website pages so that it could evaluate the performance of its private data centers with that of the public Rackspace Cloud regions it was considering.
This chart (below) shows the Radar measurements from European site visitors to its existing private Ireland facility as compared to the Rackspace London facility it is migrating to. LON is measuring almost a two times (50 percent) improvement in latency compared to the existing facility!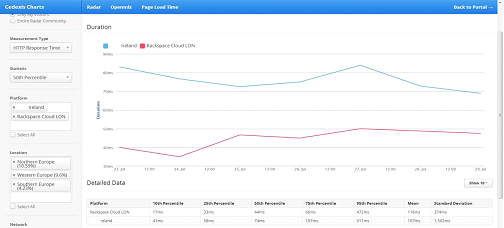 This chart (below) shows the Radar measurements from US site visitors to its existing private California facility as compared to the Rackspace DFW facility it is migrating to. A bit more erratic, but still a latency improvement of more than 25 percent.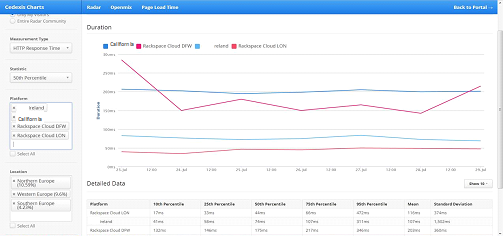 This chart (below) shows the experience users would have in fail over, i.e. if there is an availability issue at LON/Ireland, the users would route to DFW/California and DFW is offering the better latency more than 95 percent of the time.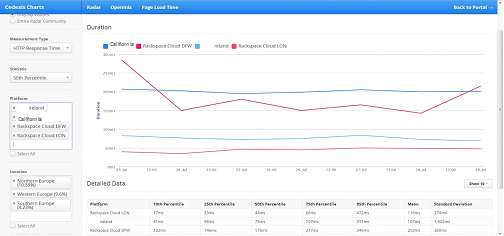 The customer deployed a Radar Test Object at each of its private data centers to allow this comparison of the performance measurements of its centers with the public cloud regions of Rackspace, which are benchmarked by Cedexis as part of the Radar public benchmarks. The Cedexis Radar community benchmarks Rackspace US-Virginia, US-Dallas, US-Chicago, Hong Kong, London and Sydney.
Clearly, the robust connectivity and carrier grade architecture of Rackspace Cloud regions provides a significant benefit for end user latency, a key driver in end user satisfaction and revenue conversion.
Cedexis is a Rackspace partner, and the Cedexis Radar service is available to Rackspace customers through the Rackspace Cloud Tools Marketplace (Radar).
Cedexis also offers the leading Real Time Data-Driven Global Load Balancing service Openmix through the Rackspace Cloud Tools Marketplace (Openmix), for enterprises that wish to use Radar and/or monitoring data to optimize application load balancing between Rackspace Cloud, Rackspace Managed Servers or private data centers.