Want to install Drupal and Joomla quickly and with fewer headaches? Well, you're in luck. We have a new Drupal and Joomla installer that gives you a fast and simple way to launch new pages using Rackspace Cloud Sites.
Why is this important?
Less Hassle: The installer allows you to build a website without having to set up a user, a database, ftp and the countless other things building a web business requires.
Save Time: Now you can spin up a Drupal and Joomla site for testing, staging or production purposes in a matter of minutes. With our new CMS installer on Cloud Sites, we give you back the time to focus on actually building the websites and blogs of your customers' dreams and less time toiling with installations.
How to install Drupal/Joomla on Cloud Sites using the one-click installer
1. Add A Site: Log in to the Cloud Sites Control Panel and click "Add A Site" and follow the on-screen instructions, as you would normally do to add a site on Cloud Sites

2. Choose Your CMS: When you get to the "Additional Features" section, select it and you'll see a new "Applications" section allowing you to select a Drupal (v7.2) or Joomla (v2.5.9 or v3.0.3) install.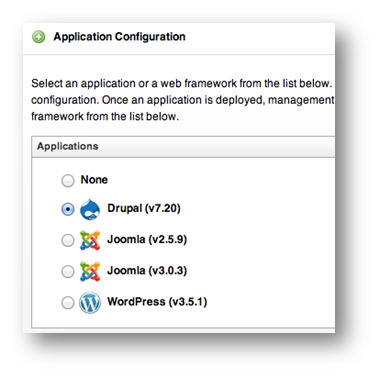 3. Configurations: Fill out the Configuration details.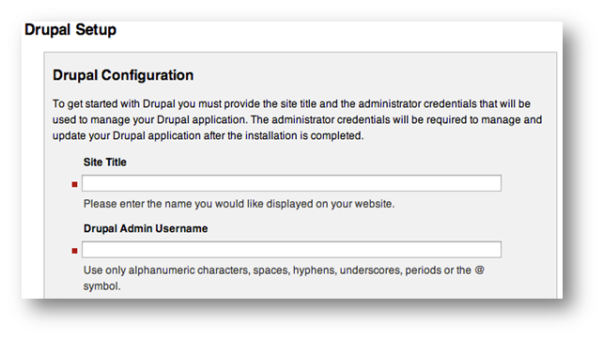 4. Finish: Click "Finish" and you're done. You have successfully added a site and installed Drupal or Joomla! on Cloud Sites at the same time.
Once your CMS (Drupal or Joomla) is installed, your site will behave like any other site.
Give the new CMS installer a try. And let us know what you think in our product feedback forum.