Want to install WordPress blogs and sites quickly and with fewer headaches? Well, you're in luck. Today, Rackspace is announcing the WordPress installer, a fast and simple way to launch WordPress pages using Rackspace Cloud Sites.
Why is this important?
For non-tech entrepreneurs and small business owners: A lot of entrepreneurs, consultants and business owners who do not have a technology background have great ideas and want to start an online business. They want to build a website without having to set up a user, a database, ftp and the countless other things building a web business requires. The WordPress installer allows you to focus more on your online business and less on setting up a WordPress environment.
For web developers: Now you can spin up a WordPress site for testing and staging purposes in a matter of minutes without dealing with setting up environments and wasting time.
For web design companies: We understand our customers and we can truly become an extension of your team. We know that building a successful agency takes hard work, dedication and a desire to reach unimaginable heights of creative execution. And just like any business, getting more customers is always top of mind. But more customers lead to more sites to build. More sites involve installing your favorite Content Management System, WordPress, on your servers. A WordPress install typically takes 15 minutes for each client. Now, if you are a Cloud Sites customer, such as Southern Web Group, which hosts over 300 clients running WordPress sites, then you will have to install WordPress 300 times. That's about 75 hours devoted solely to WordPress installs. Instead of spending time installing WordPress, you should focus on building beautiful websites for your clients. With our new WordPress installer on Cloud Sites, we give you back the time to focus on actually building the WordPress websites and blogs of your customers' dreams and less time toiling with installations.
How to install WordPress on Cloud Sites using WordPress Installer?
1. Log in to the Cloud Sites Control Panel and click "Add A Site" and follow the on-screen instructions, as you would normally do to add a site on Cloud Sites.

2. When you get to the "Additional Features" section, select it and you'll see a new "Applications" section allowing you to select a WordPress install.

3. Fill out the WordPress Configuration details.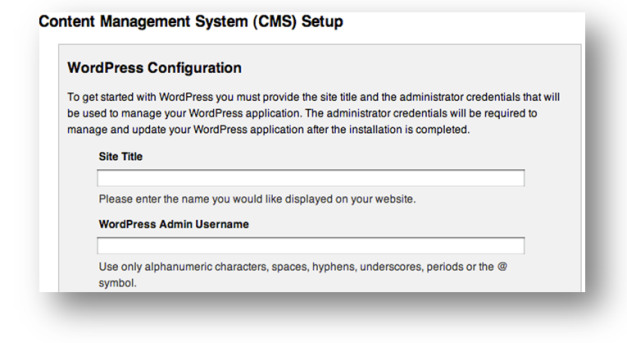 4. Click "Finish" and you are done. You have successfully added a site and installed WordPress on Cloud Sites and at the same time.

Once WordPress is installed, your site will behave like any other site.
You may ask, why just WordPress and not other CMSs like Drupal and Joomla? WordPress is the most commonly used application on Rackspace Cloud Sites — roughly 25 percent of sites hosted on Cloud Sites are WordPress sites. We started with WordPress, and are working on Drupal and Joomla installers too. Stay tuned.
Give the new WordPress installer a try. And now that you're no longer spending 15 minutes with each WordPress install, let us know what you think in our product feedback forum.
Here's a video to walk you through using the WordPress installer for Cloud Sites:
For the latest information on WordPress installer, check out our Knowledge Center article.