When choosing your email provider, the security of your users' data should be a top priority. Email routinely contains confidential and proprietary information both to your business and to individual users. It's likely there is information about your business plans, financial projections and human resource data residing in a string of emails. How can you make sure this information remains private and only accessible to the intended recipients? Can you risk hours or even days of email downtime due to a virus that employees unknowingly spread?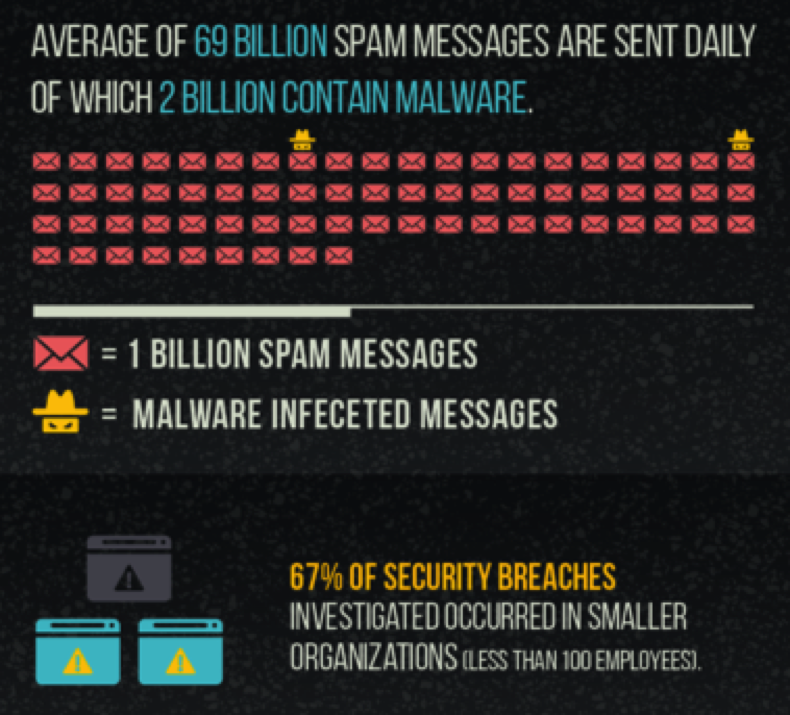 Reduce the burden of on-premise email security concerns with Rackspace® Hosted Email and our multi-layer spam and virus protection, world-class datacenters, email archiving and our focus on business-class email.
Protecting your Users from Spam and Viruses
Rackspace hosted email proactively monitors email environments 24×7 and takes daily measures to help protect email communication such as monitoring queues for deferrals or rejections, extreme connection rates or dropped connections. Our dedicated postmaster and operations team review a constant stream of data from our system as well as industry feedback to block or disable specific users throughout the day or apply new patches and upgrades. Though we've been providing email to our customers since 1999, take a look at our stats1 from 2013 alone:
36 billion message received
3.5 billion messages sent
15 billion pieces of spam and virus messages blocked
2.6 billion messages archived
720,000 new mailboxes added
500 new servers added
Yes, you read that right. We blocked almost five times the amount spam and viruses than legitimate email that was sent in 2013. Five times more!
There are malicious viruses that are meant to trick your users with a legitimate look or message. Without advanced email protection, it's likely that even with the best intentions you may have a user who will click on a malicious message that could open your domain to vulnerability.
Rackspace Hosted Exchange has three layers of spam and virus protection to help filter malicious messages out of your inbox.
World-Class Datacenters
Rackspace Hosted Exchange is geographically dispersed in multiple datacenters. What does this mean for you? It means an environmental event in one location such as a hurricane, earthquake or even a winter freeze will not disrupt mail flow as another datacenter would be able to accept and send mail. Get a quick glimpse behind the locked doors of one of our world-class datacenters here. Each datacenter is highly secure, clean and setup with multiple climate control and network systems.
Long Term Email Retention—Search and Save for Critical Email
Another consideration is email archiving. Instances often occur where you need a record of information and conversations from emails on your domain. Sometimes this capability is a compliance requirement needed to respond to audits. Is all of this information still on your email server? Do you have to manually search each mailbox to find it? Rackspace Email Archiving provides unlimited storage retention for your entire domain's email data beginning from the time the policy is enabled. It's easy to access and search so your company's email is at your fingertips without maxing out your email storage or Outlook capabilities.
Business-Class Email, Not Advertising, Focus
With business plans and intellectual property such as designs, future advertisements and patents living in your emails, can you risk another company scanning your emails for metadata? Regardless if this information is used to advertise to you or just discarded, the fact that email providers may scan your email and pick keywords to sell can be a concern. This is business-grade email; you deserve more. Your information is yours, not ours–we have no business interest in selling Adwords via your email account.
Email security is a critical component of your communication strategy. A bump in the road could set your company back days in productivity; money in lost time and data; and many sleepless nights for the IT administrator. When you're considering hosted email options, make sure to take into account the spam and virus protection your provider offers, the archiving solution you will implement for retention and other needs you may have. You can trust Rackspace Hosted Exchange and Rackspace Email to treat you, your business and your data with the importance it deserves.
Call 1-866-201-7852 or chat with an email specialist to learn more or start your 14-day free trial now.
1Data collected from Rackspace Hosted Email servers Jan-Dec 2013