Rising energy costs and the increasing complexity of the application landscape are two compelling economic reasons to outsource some or all of your IT functions.
Subcontracting internal business functions can serve as a catalyst for major growth by reducing the cost of capital expenditures, such as office space, software and hardware. And while it can also help the brightest minds in your organization spend more time innovating and less time maintaining; outsourcing comes with risks.
At Rackspace, we've built our culture on mitigating the risks of outsourced IT by providing great customer service, repeatable best practices and software built from the ground-up. Our Fanatical Support, which includes phone or live-chat services 24 hours per day and a one-hour hardware-replacement guarantee, has helped us become the optimal solution in managed cloud hosting. It also can help you put the concerns of outsourcing IT to rest.
Outsourcing has become a more common practice over the years, but there's still plenty to keep a CIO awake at night. It may be difficult to imagine relinquishing control of your computing infrastructure, which is absolutely critical to everything you do. Outsourcing brings with it a stream of questions without concrete answers: How does the outsourcing provider handle security? How seriously will they take the security of your specific IT infrastructure? How does the outsourcing provider handle problems and can they provide any evidence or references of how they have handled issues in the past?
Security, lack of operating experience, non-responsiveness and inflexibility are only some of the concerns that an outsourced IT vendor should address. At Rackspace, our systems, tools and Fanatical Support have enabled us to offer dependable outsourced IT for more than 13 years. If you're considering outsourcing, here's a handy checklist to follow, plus how we at Rackspace address each item: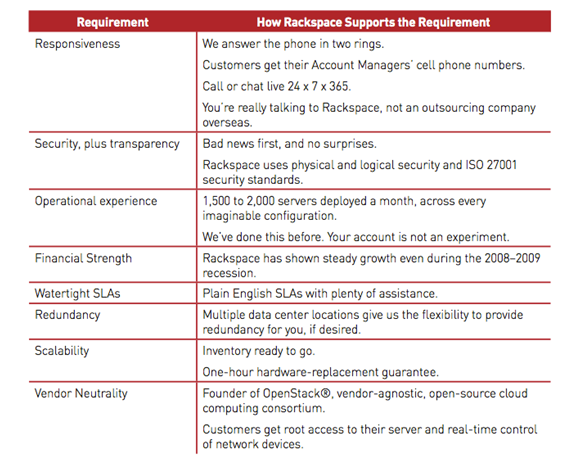 Rackspace offers a seamless and customized managed hosting experience that reduces the risk of outsourcing IT. We understand that outsourcing IT is a substantial shift in behavior and resource allocation for many of our customers, and we're here to guide you every step of the way. At Rackspace, that's our specialty.
For more in IT outsourcing, download the white paper "A Matter Of Trust" now.